THANK YOU to everyone who participated and submitted photos for the first-ever: 
"Balanced Beauty Halloween Contest!"
This year's WINNER is an entrant who put creativity, love and a healthy "Balanced Beauty" mindset into celebrating the holiday this year with her son!
Congratulations to Balanced Beauty, Rosanna!!!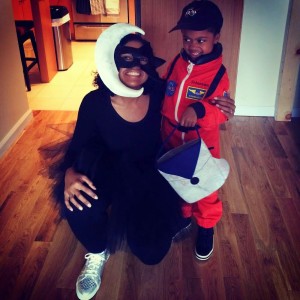 "I love my son to the moon and back"
Photographed this Halloween as the moon and an astronaut!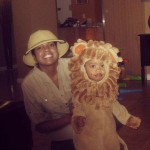 "Every year my son and I dress up as a couple for Halloween.
Our first year he was a lion and I was a safari tour guide. Another year he was a pastry chef and I was a cupcake. Last year and the year before he was a fireman and I was a fire fairy…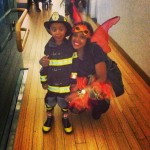 This year, he is an astronaut and I am the moon

. I recently got diagnosed with a rare form of ovarian cancer, so this Halloween is extra special for us.

I want him to not think of this difficult time in our lives as sad but as a happy one, building memories for many Halloweens to come.

 
I love my son to the moon and back!"
I urge you to visit ocrf.org to learn more about Ovarian Cancer and the Ovarian Cancer Research Fund.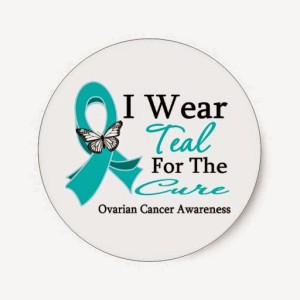 Rosanna states, "Unfortunately, with ovarian cancer many women typically do not get diagnosed until they are symptomatic and the cancer has spread to other organs, as there is no specific test to diagnose (like pap smears for cervical cancer or mammograms for breast cancer). Women need to know their bodies and recognize the symptoms. Mine was discovered by accident after having an ovarian cyst removed. "
The symptoms include: 
Abdominal bloating or swelling
Quickly feeling full when eating
Weight loss
Discomfort in the pelvis area
Changes in bowel habits, such as constipation
A frequent need to urinate
Ocrf.org
has helpful information about
Ovarian Cancer
,
including a study on how
diet may influence ovarian cancer survival.
According to a study published in the
Journal of the National Cancer Institute
, a good diet before diagnosis is linked with lower mortality among ovarian cancer survivors.
"Researchers analyzed data from 636 cases of ovarian cancer among postmenopausal women within the Women's Health Initiative Observational Study or Clinical Trials from 1993 to 1998. The authors concluded that self-reported dietary quality at least 12 months prior to diagnosis was associated with a statistically significant 27% lower risk of death after ovarian cancer."