I LOVE HALLOWEEN!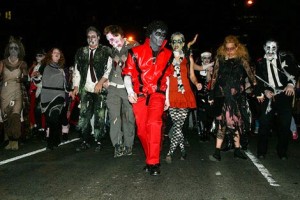 In fact, I have been

obsessed

with the Holiday ever since I was a little girl. It is one day you

CAN TRULY BE

ANYTHING

and

ANYONE

you want to be!
Halloween is also a time for ultimate imagination, outside of the box thinking and creation!…
Nothing gets me more excited than seeing someone knock it out of the park with an elaborate, original, over the top costume!
Nowadays, it's rare for anyone (especially children) to be away from the television, computer screen or off of their phones…. Holidays, particularly Halloween, is a time to encourage the power of creativity… imagine the impossible and play!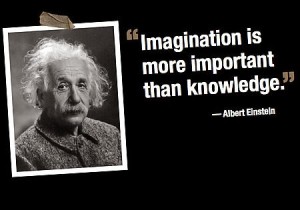 "
Imagination
is more important than knowledge. For knowledge is limited to all we now know and understand, while
imagination
embraces the entire world,
and all there ever will be to know and understand."
– Albert Einstein
In other words, imagination unlocks doors… It is ultimate FREEDOM! 
Everything you dream and visualize in your mind can be real! Imagination and creative power is the fuel for inventing, designing, writing…It is a power, if used correctly, that can change your life: Your thoughts shape your reality!
I urge my clients to think creatively– to incorporate art, writing, and music into their daily routine. This way of thinking opens a doorway to allow new ideas and ways of thinking to come through!
As you sit at your computer and flip through your phone (for countless hours), you are neglecting the right-side of your brain… The side used for innovation and human emotion!!! The more left-brained your routine, the more blocked you are from expressing ideas, creative problem solving, long term thinking, sensory input or even taking initiative.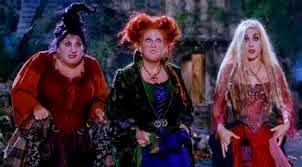 I bring up the power of imagination and creativity because Halloween is the perfect time to step out of your left-brain and use that right brain to dream, create and let go!
Have some

FUN

this holiday because it WILL improve your 

HEALTH

!
Examine YOUR way of thinking!
I recommend working a different part of your brain each day… Mix it up to improve your brain function, to keep your mind healthy and, of course, balanced!
Identifies four different modes of thinking:
Key words : Auditive, logical, factual, critical, technical and quantitative.
Preferred activities: collecting data, analysis, understanding how things work, judging ideas based on facts, criteria and logical reasoning.
B. Sequential:
Key words: safekeeping, structured, organized, complexity or detailed, planned.
Preferred activities: following directions, detail oriented work, step-by-step problem solving, organization and implementation.
Key words: Kinesthetic, emotional, spiritual, sensory, feeling.
Preferred activities: listening to and expressing ideas, looking for personal meaning, sensory input, and group interaction.
Key words: Visual, holistic, intuitive, innovative, and conceptual.
Preferred activities: Looking at the big picture, taking initiative, challenging assumptions, visuals, metaphoric thinking, creative problem solving, long term thinking.
 HALLOWEEN CONTEST!!!!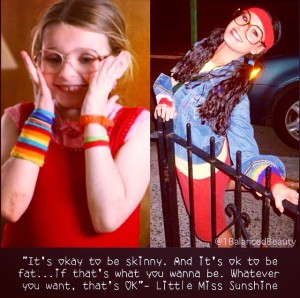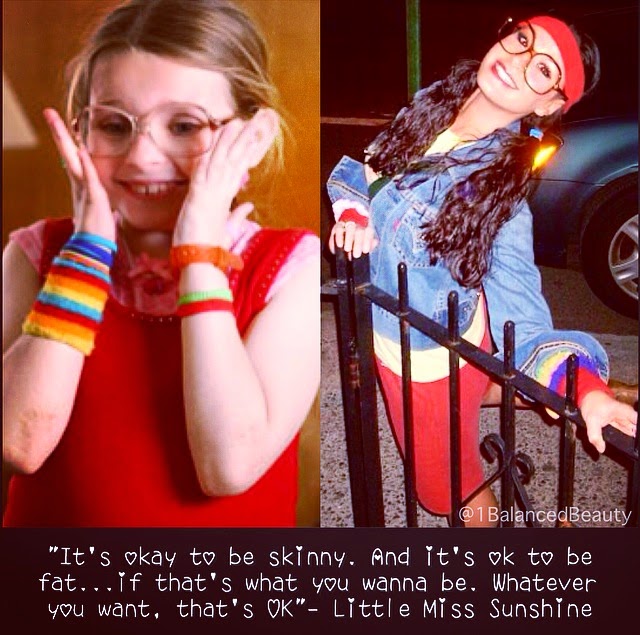 My past Halloween costume, as "Balanced Beauty" LMS!
OK–So now, that I have
connected the dots
on
why
Halloween can be great for your
HEALTH
–  
I WANT TO SEE YOU TAKE ACTION!
This Halloween, use that
fabulous
imagination, get creative and enter the first-ever: 
BALANCED BEAUTY HALLOWEEN CONTEST!!!!
Send photos to: 
AMang@TheBalancedBeauty.com
with a few sentences on how
you
got creative this Halloween!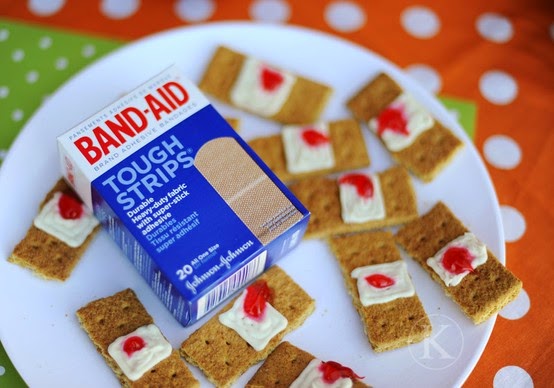 Photos can be costumes, a fun dish, event or office party- The more creative, the better!
BONUS points if your "creation" ties to
The Balanced Beauty
mission for empowering, encouraging, and inspiring healthy choices (like my "Little Miss Sunshine" example above)! 
 BALANCED BEAUTY PRIZE PACKAGE INCLUDES: 
60 minute Health Coaching Session– followed by notes, recommendation, recipes, & handouts
1 Innovate/Creative Bonus Session– we come up with together, based on YOUR specific needs and health goals…. This can be anything from a supermarket shopping consult to detoxing your home to a cooking class to a barre or yoga class of choice!
Special offer for future discounted services
* Optional: Looking to gain exposure for you or your business?  Winner will get a "shout-out" across all social media (Facebook, Instagram, Twitter, Pinterest + Blog Feature).  This may be a great opportunity to showcase your recipes, photography or about you/your business!
In Email include: your name, photo, description, telephone, any social media links/handles
1 Email per entrant, 3-5 photos max
Entries will be accepted TODAY – November 2nd
The more creative, the better!
If submitting as a group (office, business, etc) Prize = group coaching event or presentation. Bring The Balanced Beauty into your office to lead a session on health and wellness or for a private event, after work hours.