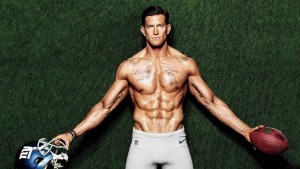 "The NFL's Fittest Man"… "The Sickest Body in The NFL" …"Super Dad"… These are just a few of the titles that belong to NY & NJ's beloved, Steve Weatherford.
Steve is currently a free agent but is most widely known as the fan-favorite punter for the NY Giants! Over the years, Steve has been praised and recognized for his ultra in-shape body and gladiator strength. He was featured in the December 2011 issue of Men's Fitness, where his "maniacal workout" routine was outlined (Check it out HERE). He is reportedly able to squat 475 pounds and bench press almost 400 pounds, and teammates have called him the "strongest player pound-for-pound" on the team.
OK- but let's chat ladies…For those of you not interested in Football, I will tell you in addition to his ripped bod (more men drool over than women), Steve is extremely active in philanthropic and charitable work, has a beautiful family (married to wife Laura for 8 years, with 4 beautiful children) and above all, Steve is one awesome Instagrammer!!! If you don't already, you must follow @Weatherford5 for the mix of fitness, family, food and fun… Steve is a total male Balanced-Beauty, who is an inspiration to set goals, live a healthy lifestyle and never give up on your dreams. Steve proves when there is a will, there is a way, and his formula for success is to always stay positive, stop making excuses and GET AFTER IT!!!!
I had the incredibly opportunity to connect with Steve and pick his brain on health, nutrition, family, fitness and of course, how he balances it all!
5 QUESTIONS For #5, STEVE WEATHERFORD: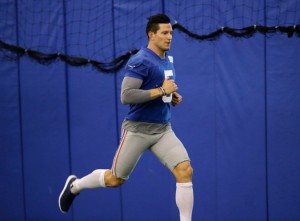 1. "Steve Weatherford is the NFL's Fittest Man," "The Sickest Body in The NFL" What do headlines like these mean to you?
I think titles like the "NFL's Fittest Man" and "The Sickest Body in The NFL" are pretty cool. It is pretty amazing to me that in a league which features some of the best athletes on the planet, that I have been given these titles. Still I would stop short of saying that I am surprised because I know the amount of time and work that I put into conditioning and training my body. To me, titles like "Fittest Man" and "Sickest Body," are culminations of all of the hard work that I have put into my fitness regiment over the years. They represent to me the life decision and commitment I made to fitness and being the best me I could possibly be.

2. What is one crucial/specific lifestyle change you recommend for someone just starting a healthy routine?
One crucial or specific lifestyle change that I would recommend for someone just starting a healthy routine would be to really ask yourself if you are ready to make a lifelong commitment to your body.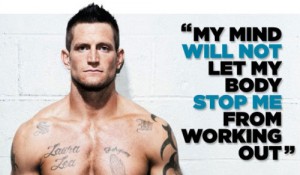 You can't expect to see results and improve your health by going after your goals half heartedly. this means that you are going to have to commit to exercising frequently, eating right, and pushing through on those days when you want to do neither! That may seem intimidating, but there is good news in the fact that what we do over and over soon becomes habit. If you can commit yourself to making lifestyle changes in regards to your health and fitness, you will find that after a month or so, practicing a healthy lifestyle will become infinitely easier then when you first made changes. This is how you create a lifelong relationship with your body and your health.
3. "Super Dad" has shared many adorable and hilarious posts on Instagram… You are a role model to many as a great Husband and Father. How do you balance your family time with your hectic training, work and travel schedule?
Thanks, I really appreciate that. Oh and by the way, I feel a responsibility to share my "adorable and hilarious" family with the Instagram world. As far as your question goes, family comes first. Everything I do between my career and my hectic training schedule, is done with my family in mind. I feel so blessed to have a beautiful wife and four beautiful children who love me. Nothing in this world could ever come before that. In terms of my career, training, and travel schedule, I prioritize. I take pride in being the punter for the New York Giants and put an immense amount of time practicing and getting better everyday. I also invest a lot of my time in the World Champion Foundation, which allows me to impact the lives of kids in positive ways. All of these things give me great pleasure and keep me super busy, but I make it work through prioritizing and time management.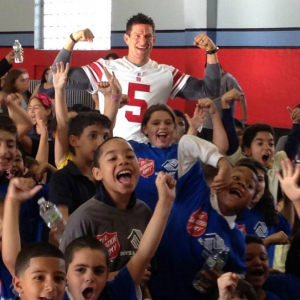 4. You are a role model to countless fans and followers. Who is your role model?
In regards to a role model in my life, John Carney (the Giants' kicker in 2008) is my best friend and one of the biggest influences in my life. I met John when I was a rookie with the New Orleans Saints back in 2006 and since day one he was nothing but supportive as I began my career. With John Carney being a 27 year NFL veteran, I picked his brain as much as I could about the ins and outs of the NFL and how to conduct yourself both on and off the field. We developed a close relationship and I was really excited when we were able to reunite as teammates in New York. My relationship with John is the reason why I named my daughter Carney. I live in San Diego and train with him every day during the off-season, so he is kind of a mentor/best friend to me. He advises me on all my important life decisions.
5. Many fans tailgate before big home games. If cheat meals were allowed and you could have ANY tailgate specialty, what would it be???
Nothing in this world can beat a great nacho dip at a tailgate!
---
RECIPE, WINNING SUPER BOWL:
In honor of Steve's favorite cheat meal and SUPER BOWL WEEKEND, the Balanced Beauty has created a dip recipe that is delicious, containing less fat/cals of typical options (often with saturated fat and other bad-for-you ingredients). This crowd pleaser will allow you to indulge, while staying on-track with your health goals- to look like Steve!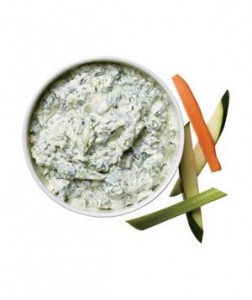 DIP INGREDIENTS:
1 cup plain low-fat Greek yogurt*
1 container/4 cups, sauteed spinach*
1/4 cup pesto*
sea salt, 1/4 tsp
black pepper, 1/4 tsp
Cut-up vegetables, for serving (cucumbers, celery, carrots, radishes, yellow peppers)*
DIRECTIONS (simple):
In a small bowl, mix together the yogurt, spinach, pesto, and ¼ teaspoon each of salt and pepper.
Serve with cut-up vegetables, or corn chips!
WINNING: 
Greek Yogurt- Packed with protein and probiotics. Great for lean muscles and gut health.
Spinach- Contains protein, tons of vitamins and FIBER!
Pesto- Base is made out of olive oil, which is heart-healthy, great for skin and helps support metabolism.
Veggies- Ditch the chips and dip with colorful veggies. This will keep it clean and low-carb!
---
STEVE WEATHERFORD'S ELITE LIFESTYLE:

On the philanthropic side, Steve is focused on health, fitness, and family. Under the umbrella of his foundation, the Steve Weatherford World Champion Foundation, Weatherford mentors close to 150,000 kids in his roles as Health and Fitness Ambassador of the Boys and Girls Club of New Jersey, and as "head coach" for Wellness in Schools.
As part of his mission to educate and serve as a healthy lifestyle advocate and mentor, Steve teamed up with Chef Carlo Filippone to provide a solution to men, women and families who want to eat nutritious, delicious and wholesome foods without the fuss and mess of cooking themselves…
Elite Lifestyle Cuisine is a great option for those of you who want to look like Steve and have gourmet meals delivered to your door, so you don't have to overthink meals or portion sizes. Check out their site to learn more about the Gold-Star Award-winning facility and products to support a healthy lifestyle for you and your family:  Elite Lifestyle Cuisine!
*They even have Gluten-Free options!
---
CONTEST-ENTER TO SCORE!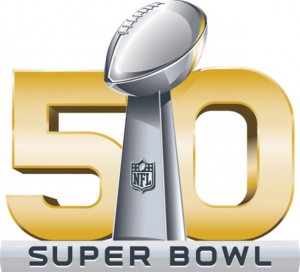 Excited for the game (or commercials) this weekend???
Get in on The Super BOWL Raffle!
TO ENTER:
Sign up for The Balanced Beauty Newsletter (homepage) and your name will be entered to WIN a SUPER BOWL full of TOP health and food products , totaling up to $200 in value.
Enter before 2/8 for your chance to win. Winners will be contacted via Email.
---