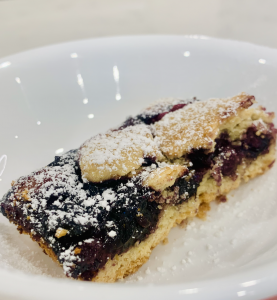 I was scrolling through instagram and a friend of mine had posted the most beautiful "Raspberry Crumble Bars." I was immediately drawn in, salivating over her beautiful creation, until reading the ingredients in the description and realizing I was allergic to many and couldn't make the recipe….
Rather than give up on this new dream treat…I looked in my pantry and realized I could make some easy tweaks to make a custom version of my own; Introducing, "Balanced Beauty Berry Bar Crumble."
My version is Gluten-Free, Egg-Free, Dairy-Free, Butter-Free, & GUILT-FREE!
I used "gluten-free" all purpose flour, which worked out great— But you can easily swap with other grain-free/paleo/chickpea flours to make it even healthier… Enjoy indulging in a delicious treat, that's gluten-free/grain-free, made with all-natural ingredients, low in sugar but high in antioxidant-rich berries, which bring all the SWEET you need.
I call this a "Berry Bar" Crumble because while the idea is to cool and cut into bars, it also works great to serve in a small dish and eat with a topping, warm and gooey right out of the oven… For bars, I recommend cooling for minimum 45 min-60 min or chilling in the fridge to harden ingredients before cutting into squares.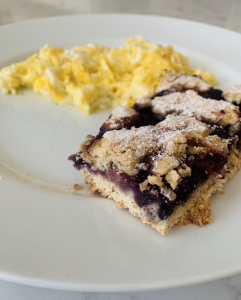 NOTE: These bars are very light. They taste more like a breakfast treat than a full-blown dessert bar. This is what makes them versatile and a great treat to enjoy any time of day…And definitely "mommy approved" for the kids!… I also like the fact you get your "sweet" without the overload, so even if you do eat them late at night, you're not going to bed feeling overwhelmed with a sugar rush.
BALANCED BEAUTY TIP:
When you see a recipe that looks AMAZING and you really want to give it a try, but it's not a match with your dietary needs/restrictions, don't get discouraged or feel deprived!!! YOU CAN enjoy and indulge in foods you love– it just takes a little creativity and/or purchasing some specialty ingredients to swap or substitute with.
I really hope you enjoy this one because its super simple and delish– A new Balanced Beauty FAV!
---
DIRECTIONS/ INGREDIENTS:
Preheat oven 350 degrees F
Lightly spray or grease with butter 8×8 baking dish (if you use butter, it will enhance the flavor of your crust)
CRUST:
1 1/2 cups of Gluten-Free Flour (or flour of choice)*
1/2 cups sugar (can use sugar substitute)*
1/2 tsp baking powder
MIX IN BOWL and then ADD:
1/4 cup Coconut Oil (not melted)*
5 Tbsp Almond Milk
MIX until the dough forms.
Transfer half the dough to your baking dish and press down firmly
FILLING

:
2 cups berries of choice (I used blueberries/strawberries mix- Major YUM)!
3 Tbsp Maple Syrup
2 Tbsp vanilla extract
1 Tbsp Cornstarch
MIX well. Pour over the dough.
Sprinkle the remaining half of dough over the berries and press down lightly (You may use a little more than half depending on your baking pan- That's OK- just make sure you leave some to crumble for the top).
Bake for about 45-60 minutes / Until top is golden brown (Cook time may vary depending upon oven and flour used)
Let it cool… Slice into bars or serve right away in a dish with topping and ENJOY!
---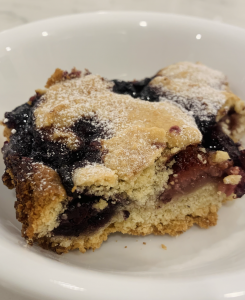 * OPTIONAL: Garnish with powdered sugar, low-fat vanilla ice cream/yogurt or Truwhip for a touch of extra sweetness.
* TIP: When right out of the oven, after cooling for about 10-15 min, take a rubber spatula and lightly go around the edges to ensure the bars don't stick. This will help later once fully cooled to cut into squares and remove without any breaking!
---