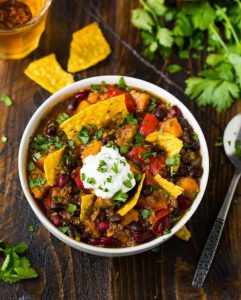 Chili is a TOP Balanced Beauty choice as one of THE BEST dinners you can ever make. Why?…
LOADED with flavor and tastes great
Tons of health benefits, as it's LOADED with veggies and spices
Super EASY (dump ingredients in a pot) and FAST!!!
Cost effective- Make one batch and it can either feed a huge group, party or last you an entire week
Comfort food for the soul- Nothing better than curling up with a warm bowl or mug of chili, especially as the seasons change. The heat, protein and veggies will keep you fuller for longer to help you stay satisfied and on-track with your goals.
The combination of ingredients used in this recipe make this chili high in fiber, vitamins, minerals, rich in antioxidants and is packed with PROTEIN. Quinoa, the star of this chili, is a very powerful gluten-free grain and vegetarian alternative to meat… Because quinoa is also a complex carbohydrate, this dish will also help you feel energized and amazing instead of tired or lethargic after eating…One of my favorite recipes during the Fall season to cook-up for lunch AND dinner! 🙂
INGREDIENTS
2 medium sweet potatoes, chopped
2 Red Bell peppers, chopped
1 Medium Yellow Onion, chopped
4 cloves Garlic, chopped
Seasonings: 1 tablespoon Chili Powder & 1 teaspoon Cumin, Chipotle powder
1 1/4 teaspoons sea salt
2 1/2 cups Vegetable Broth
1 8 ounce can of low sodium Tomato Sauce
1/2 cup uncooked Quinoa
1 15 oz can Black Beans (drain & rinse)
1 15 oz can Red Kidney Beans (drain & rinse)
1 tablespoon olive oil
Optional Toppings: Avocado, Sour cream (or non-fat greek yogurt), Corn Chips, cilantro, shredded cheese etc.
DIRECTIONS
Sauté the onion in the Instant Pot until soft, then add the potatoes, pepper, garlic, and spices. Cook until fragrant (Note: If you don't have an Instant Pot, a regular pot or crock-pot will work but the cooking time will just take longer- Flavors enhance and taste best the longer they sit and cook together)
Add half of the broth, stirring and scraping up any pieces stuck to the bottom. Stir in the remaining broth and quinoa. Pour in the tomato sauce, and do not stir.
Cover, seal, and cook on manual (HIGH) pressure for 8 minutes. Immediately release the pressure, then open the Instant Pot.
Stir in the beans. Close the lid and let it thicken. Serve hot with desired toppings, and ENJOY!