– The Ultimate Balanced Beauty Inspo –
Interview with Miss NJ USA, Alexandra Lakhman 
I will never forget the first time I met Alexandra Lakhman. . .
The year was 2015 and I was in attendance at Miss New Jersey USA, cheering on and supporting one of my very first pageant clients since starting my business…
My client was in the Top 5, and standing alongside her was a wide-eyed, beaming presence of a young Alexandra. I could tell she had prior pageant experience from the way she carried herself on-stage, and knew the competition was fierce for NJ that year. I remember thinking, "This crown can go to ANY of these women!"…My client placed 1st RU, with Alexandra taking the 4th RU spot.
After the competition, I sat and waited for my client in the hotel restaurant. Alexandra was at the table next to me with her Mother. I introduced myself, congratulated her and was surprised to learn Alexandrea was only 18 years old!…Not only was she the youngest contestant, out of 119 women, but she was also a returning Teen contestant who placed 1st RU, the year before in 2014.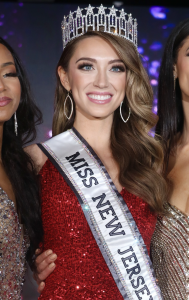 I remember her saying she was excited to come back to compete again for "Miss" and completely accepted her placement as 4th RU. I also remember thinking how poised, graceful, positive, and refreshing it was to hear her speak and knew she would be someone to watch in future years…I knew if she did come back, in time, she had that special "it-factor" to definitely win.
It took 7 years, where Alexandra did indeed return, placing in the Top 5 as 1st RU majority of her competitions, for her to ultimately WIN the title in 2022. Watching her journey over these years has been nothing short of INSPIRING and an incredibly powerful lesson to NEVER GIVE UP ON YOUR DREAMS AND GOALS.
It's also important to note, it's not the destination but the journey along the way that makes the reward that much sweeter….Alexandra has a huge fan base of support, myself included, from those who have met her and watched her grow over the years into the elegant, wise, articulate, beauty that she is today – with a heart of gold!
I had the pleasure to interview Alexandra after her 2022 WIN and hope it inspires anyone reading this to believe in yourself, never give up, and to honor your inner calling. You CAN do anything you put your mind and heart into!
This interview will also give you a chance to get to know our reigning "MISS New Jersey USA 2022" and support her on her journey to (hopefully) WIN the coveted title of "Miss USA!"
Meet Alexandra Lakhman, Miss New Jersey USA 2022!!!
How did you first get started in pageants… What made you first decide to enter?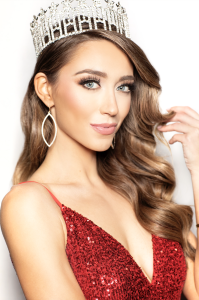 "Back in the day, I received a letter in the mail that someone recommended me to compete in a pageant. At the time, I was a teenager in middle school. Being a teen can be tough sometimes, and I was going through a rough time with friends, so I wanted to find an outlet for myself. I took the letter as a sign to compete in a pageant to gain self-confidence in myself and make new friends. After competing, I immediately got the "pageant bug," and knew this was going to be a consistent hobby in my life."
Tell us about your previous pageant experience and titles?
"As you all know, I am no stranger to pageants. I won International Junior Miss Teen NJ in 2012. I also won the Jovani It Girl National Modeling Competition in 2016. As for the Miss USA Organization, I decided to compete in 2013, which happened to be Miss New Jersey Teen USA 2013. I was first runner up there! After aging out, I went straight into the Miss division the following year, and was 4th runner up at 18 years old! I had no intention of winning that year, I just wanted to see what the clear difference was between Miss and Teen. I am so thankful for starting young! It took me 7 tries to finally become Miss New Jersey USA. Throughout my years, I was first runner up 50% of the time I competed, and the other years I was pretty much always in the top 5 (besides one year, when I was a semi-finalist). I did take a 3 year break to focus on growing in my career, and I truly didn't know if I would come back – but I am so glad I did. You should never live life unfulfilled and no matter how hard it may seem, always chase your dreams! I am so honored to be your Miss New Jersey USA 2022."
You competed and placed many times before actually winning the crown! What motivated you to keep coming back? 
"I sure did. I truly believe competing in pageantry allows you to be the best version of yourself. It challenges me physically and mentally. There were many components that encouraged me to continue coming back, but the most obvious reason was that I wanted to become Miss NJ USA and serve as an example for others to NEVER give up on their dreams. Competing in pageants has helped shape the young woman that I am. I have gained confidence in myself, interview skills that I will carry on with me forever, and incredible public speaking skills. As a young girl, I was so shy (if you met me today, that would be very hard to believe!). With that being said, there were so many factors that encouraged me to come back – self-discovery, inner-growth, and ultimately, achieving my lifelong dream."
How did you prepare for this pageant? What was different or anything special about THIS particular time preparing than previous pageant experiences? What have you learned along the way?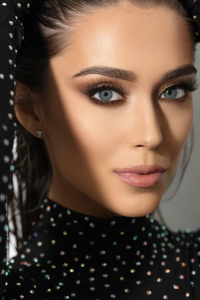 "My biggest learning lesson: You are your biggest competition. I often get in my head too much and overthink everything. This year, I truly worked on my mental preparation, because you need to be mentally very strong to put yourself in any competition. I believed my mindset is what had held me back. I read many different mindset books and practiced self-affirmations. Looking back at previous years when I competed, I am grateful I did not win then, because I know mentally, I would not have been ready to compete at Miss USA. There is a saying that "Everything happens for a reason. Eventually you will learn that reason." It took 9 years for me to learn that reason. After winning, I 100% believe that saying, making me a firm believer that everything does happen for a reason."
Many girls who don't place or win can get very discouraged. What would your advice be to someone who puts their all into the pageant but doesn't place as hoped for?
"First and foremost, do not put your eggs in one basket. Been there, done that, and I can say from experience it is not healthy! It is so important to focus on many different aspects of life. Sure, we all want to win, but it's also imperative to 1. Be grateful for all the skills you gain and components about yourself that you learn in pageants 2. Focus on other areas of your life whether that is school, career, friends, family, hobbies, etc. Pageantry teaches you skills that you can apply to many other areas in your life that propels you to succeed. I can completely understand how not winning or placing can be discouraging, but I highly recommend looking at the outcome with a different mindset: What did I learn about myself? Did I gain any new friends? Did the pageant open doors for any networking opportunities? Remember, you are incredibly special, and it takes a lot of courage and strength to put yourself out there in a pageant. Be proud of yourself for how far you have come and will continue to go in life!"
After competing so many times and now winning, you are a Pageant MASTER! What is advice you have for someone thinking about entering? Would you encourage them to compete? What are some things they should be aware of or think about before getting involved!
"I encourage someone to compete in a pageant only if they want to! I truly believe that you can learn a lot about yourself just by competing in a state pageant. Like I said before, I entered initially to gain self-confidence, and I have learned so much more than that. My biggest piece of advice is to focus on yourself, because at the end of the day, you are doing this for you. Know exactly what you want to gain from this incredible experience and have fun with it! If you are thinking about competing in a pageant, you should be aware that it can be costly, so budget your expenses and know that any kind of support you can get from sponsors is helpful and possible. It goes a long way!"
You look absolutely incredible on stage! Can you tell us a bit about your lifestyle? How you fuel your days and how fitness plays a role in your preparation?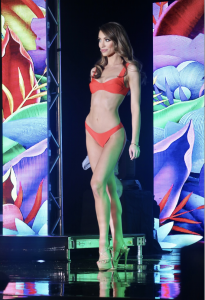 "Thank you! I have been leading a healthy lifestyle for a very long time now. Being a first-generation Ukrainian American, my dad always encouraged me to have a "sport" to focus on. I was a rhythmic gymnast, swimmer, and dancer. Now, I am extremely passionate about running and high-intensity weight training. I never work out for pageantry; I work out because I love it. It is mentally soothing and physically challenging. In terms of diet, again, I love eating clean and focusing on my macros. It's embedded into my day to day, however I never deprive myself! Even leading up to the pageant, I always had cheat days, and I intend on doing the same as I prep for Miss USA."
What is some thing that many people don't know about you yet? Is there anything special you would like to share?
"I feel like I am an open book! If you all don't know, I am a first-generation Ukrainian American. My first language was Russian. I learned how to speak English at 5 years old. I also have a younger brother who has a progressive, physical disability called Spinal Muscular Atrophy Type 2. Unfortunately, to date, there is no cure. He is the brightest and strongest person I know. I have made it a life goal to help find a cure for this disease. He is my inspiration and teaches me every day to be appreciative of everything, especially things we may take for granted every day. He is a sophomore at Seton Hall University and due to his disease, requires nursing care. During COVID, we lost a lot of nursing coverage, so I actually had the incredible opportunity to serve as my brother's caretaker at college. I helped him every Friday, while being able to work my full-time job from his campus. There's nothing like additional bonding time you get with your sibling. As for my career, I'm a Digital Marketing Manager working for a Fortune-500 company and graduated from the Fashion Institute of Technology in 2018 with two degrees: Business & Marketing and a minor in English."
One thing I do know is that you are an amazing advocate. Can you tell us a little bit about charities and causes that are close to your heart that you support and bring awareness to?
"I am the Communications Chair for Cure SMA's NJ Chapter. I run the chapter's social channels and help put on different events throughout the state that ultimately fund scientific research that goes towards finding a cure. I intend on continuing my advocacy as Miss NJ USA and bring the awareness to a national level. In addition, as a first-generation Ukrainian American, I am very connected to the Humanitarian Crisis in Ukraine because that's where my roots are. My dad and grandparents were born in Odessa, Ukraine. I have been volunteering with UNICEF and will be volunteering with many other organizations that are helping those affected in Ukraine. I hope my voice and advocacy can encourage those around me to advocate for what they believe in!"
If you could go back in time and tell "Little Lexi" any advice at the start of your pageant experience what would it be?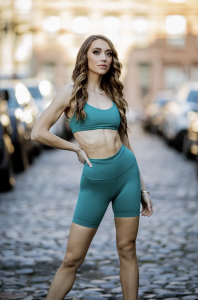 "My biggest piece of advice for myself is to believe in myself. It happens way to often to all of us where we let the small noises in our head (aka our thoughts), hold us back from going after our dreams and goals. All the hard work that I put in daily, will be worth it one day, and this is part of the ride that makes the outcome special. And this advice can be applied to anyone."
Lastly— Please tell us any ways we can rally around you and support you, as you head to the next round of competition, to win the title of Miss USA! Also—When is it, where can we watch?! Are you feeling ready?!… Final words?
"To follow along my journey, you can find me on Instagram & TikTok: @alexandralakhman | @missnjusa (credit for all photos)*
"They have not announced when or where Miss USA will be, but I will be sure to keep everyone updated as soon as I find out! I have been in the industry for 9 years now, so I can confidently say that I am ready, although my official training has not started just yet! I am feeling so excited, it still has not hit me that this is happening and that I am your Miss NJ USA! I am dreaming!!! Thank you to Aly for featuring me in this interview, it's been a pleasure! To all of you reading, thank you for your support on my journey. Never give up on your dreams, believe in yourself, and know that you absolutely are worthy and capable."
Thank YOU Alexandra– The Balanced Beauty wishes you an incredible reign, along with all the luck on your side to shine bright on the stage at Miss USA. We believe in you, support you and are excited to cheer you on!!!!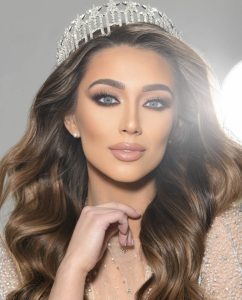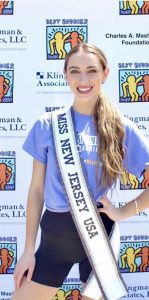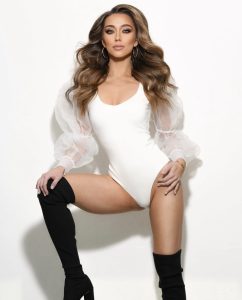 Since being crowned, Alexandra has been seen at a number of events throughout the state…
From, walking for a cause with "Best Buddies" to strutting summer's hottest fashion looks at "Vanilla Sky" Clifton's Grand Opening Event, to posing with world-renown photographer Fadil Berisha, to partnering up with Victory Boxing NY to bring emergency relief to Ukraine, through @UnicefNextGen — This Balanced Beauty Inspiration can be found bringing light and love all around New Jersey. Follow her journey and learn about the latest causes, hot topics, entertainment and happenings through @missnjusa & her personal IG @alexandralakhman.
Interview By: Aly Mang, The Balanced Beauty LLC.
@1BalancedBeauty | www.TheBalancedBeauty
@aly_mang | www.AlyMang.com
---
If you are thinking of entering a Pageant and are looking for support, guidance, accountability and/or inspiration – Work 1:1 with me!
Pageants are an incredible way to put your best foot forward; balancing health, fitness, career, hobbies, and work in your local community… As a contestant, you will support causes, make friends, meet with likeminded women, and represent your state. All the women I have met and worked with over the years have been doing BIG things and truly represent what THE BALANCED BEAUTY is all about–
Learn more here: TESTIMONIALS & PAGEANT INFO