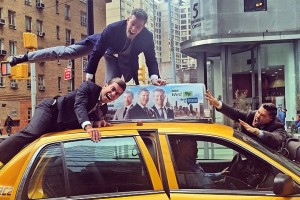 Last year, we kicked off,  "The Balanced Beauty Summer Slim-Down Series" with an interview and creative recipe from Bravo's Million Dollar Listing New York's, Ryan Serhant! In honor of SEASON 5 airing tomorrow (Thursday, 4/21 @ 9pm on Bravo), check out the below, including a new healthy surprise on the market from Ryan!
---
Ryan is one of the most successful real estate brokers in the world, with teams under his leadership in both New York and LA; However, he is most known and loved for his stand-out quirky humor on MDLNY, purple scooter, beautiful fiancé Emilia and inspirational Instagram Account @RyanSerhant. I refer to him as "The Balanced Boy" because he does an exemplary job of balancing it all, while serving as a positive mentor to his fans and followers.
Balanced Beauty Juice Pick: Recently, one of my favorite companies "Juice Press" created a new green juice, called "THE RYAN." It is a raw juice blend of Green Apple, Kale, Spinach, and Lemon. This is a fantastic juice option for an all-natural energy kick and a dose of greens to keep that immunity boosted and skin glowing… The perfect option for those who want to feel their best and look their best, on-the-go!
Real estate mogul, fiancé, green-juice icon…All at 31 yrs- How does he balance it all folks?!
"Fast 5" with Ryan Serhant:
A typical day for you is like a week for most. I read that although you grind all day and get to sleep by midnight, you wake-up at 4:30 am to hit the gym at 5:00 am every day- What keeps you motivated to make it to the gym, despite your demanding and hectic schedule?
The fact that I love what I do. I wake up every day excited about what I'm going to do and the days are never long enough. I could barely get out of bed if I didn't do what I loved!
2. What does Ryan Serhant eat to fuel his demanding days?
Lots of protein!
3. What is your biggest weakness or struggle when it comes to keeping up your healthy routine?
Finding the time to eat well and sleep well. The actual physical act of going to the gym is 50% of the battle. The other 50% is eating well and sleeping well and if you don't do all three than they cancel each other out and you're left with nothing.
4. Congratulations on your Engagement! How are you and the beautiful Emilia prepping for the big day? Any new healthy lifestyle changes?
I now have a beautiful girl to help me prepare homemade meals. I don't think I've eaten a homemade meal since I moved to New York in 2006.
5. Your motto is: "EXPANSION. ALWAYS, IN ALL WAYS" … I am sure you don't count your waistline-As we kick off the "Summer Slim-down Series," tell us one food you can't live without?
Cookies and Cream Ice Cream!
Below is our Balanced Beauty version of Cookies and Cream Ice Cream! This shake is creamy, sweet, loaded with protein and health benefits. You can enjoy the taste of "Cookies & Cream" without the actual fat and sugar of regular ice cream.
Ryan Serhant's, "Cookies & Cream Shake- IT UP!"
Ingredients:
8 oz. Vanilla Almond Milk
1 cup 0% NonFat Greek Yogurt (Of course, something GREEK for Emilia)!
1-2 scoops Vanilla Protein Powder
Ice
Gluten-free Chocolate Cookies (I recommend Glutino, Chocolate, Vanilla Creme)
Optional: Dark Chocolate Chips
Directions:
Mix Almond Milk, Greek Yogurt and 1 scoop of Vanilla Protein Powder in blender or Nutri-bullet with ice.
Add in crumbles of gluten-free cookies or save cookies on the side for dunking!
Everything in moderation and the right balance.
Shave dark chocolate on top for garnish and extra sweet touch
Note: I ALWAYS recommend "eating from the earth" and avoiding packaged items. If adding sweets or packaged items (like cookies) into your diet, stick to portion sizes and read labels! Avoid ingredients like: hydrogenated oil, food colorings, artificial sweeteners, sugar listed as first ingredient, and high fructose corn syrup!