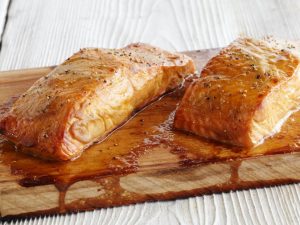 The Atlantic Salmon ("Bradán" in Gaelic), is a native Irish fish.
This week, in honor of St. Patrick's Day– I created a dish using one of this traditional food ingredient, with some "luck of the Irish" GREENS!
SALMON is a TOP BALANCED BEAUTY food pick- WHY?
One of the BEST sources of long-chain, Omega 3 Fatty Acids and DHA– Amazing from brain, joint and heart health
Great source of protein
High in B Vitamins, which BOOST MOOD and make you feel amazing
Loaded with selenium, potassium and antioxidants (hello, beauty food for hair, skin, nails)
Can help with weight-loss, as its low-cal, yet super filling!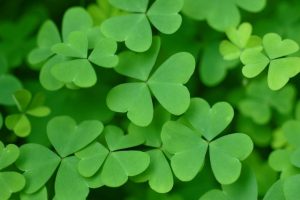 Tastes great baked or grilled, and can be cooked in about 12-15 min tops-
Love this option when wanting something that tastes "restaurant quality" even when you're pressed for time and need to whip up something quick!
*While the ingredients and colors of this dish are inspired by St. Pattys, flavors are a touch asian-infused… A light, healthy choice that's full of flavor and perfectly balanced!
---
INGREDIENTS:
12 inch untreated cedar planks

Grilling food directly on a cedar plank adds smoky & earthy flavors from the timber. Tastes delish for this particular recipe!

2 (2 lb) Atlantic Salmon fillets, skin removed
1/2 cup olive oil
1 1/2 tablespoons rice vinegar
1/3 cup soy sauce
1/4 cup chopped green onions
1 teaspoon minced garlic
Jasmine rice
Green Chard (or leafy green of choice)
---
DIRECTIONS:
Soak the cedar planks for at least 1 hour in warm water.
In a bowl, mix together the olive oil, rice vinegar, soy sauce, green onions and garlic to make a marinade. Place the salmon fillets in the marinade and turn to coat. Cover and let marinate for at least 15 minutes (or up to 1 hour to enhance flavor).
Preheat your grill to medium heat. Place planks on grill– When the boards are ready, they will start to smoke and crackle.
Place the salmon fillets on the planks. Cover and grill for about 20 min (Note: it will continue to cook even after buy remove it from the grill on the planks, so take it off when cooked to your temp preference and keep in mind, so you don't overcook).
While the fillets are cooking, boil your water and cook your jasmine rice (cook time: appox. 10-12 min)
While jasmine rice is cooking, sauté your greens in a pan with olive oil, sea salt, garlic & pepper
Serve salmon over rice and greens– A perfectly balanced, healthy and filling dish– ENJOY!!!
---
St. Patrick's Day is "the feast of St. Patrick" –On this day it is customary to wear shamrocks, green clothing or green accessories. It is said St. Patrick used the shamrock, a three-leaved plant, to explain the Holy Trinity to the pagan Irish he was trying to convert to Christianity.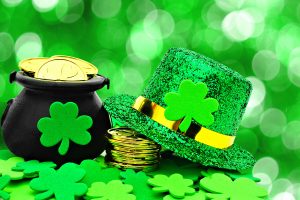 Rainbows, shamrocks, the color green– Are all beautiful and magical symbols and reminders that there is something bigger than all of us and is related to the Christian faith.
The color green is associated with the heart chakra, which relates to love/self-love – the ability to give and take unconditionally. When balanced we are able to give love and also to love and nurture ourselves. This color (and chakra) helps relax muscles, nerves, and thoughts. Wear green not just for St. Patricks Day– But whenever you want to give and receive the energy of LOVE. 
…And EAT YOUR GREENS as the best way to give your body loving energy.
Much Love & Hope the Luck Of The Irish finds its way to you this Holiday!
XO, Coach Aly