This past week, I had the pleasure of attending a Mindfulness Workshop, lead by Cory Muscara (MBSR, MAPP); hosted by The Pink Agenda. The aim of the workshop was to educate participants on the effectiveness of Mindfulness and the many ways to incorporate a practice into a daily routine. Mindfulness techniques are effective in stress reduction and can even recalibrate the brain to boost mood, focus and productivity.
Cory was extraordinary in identifying where we can shift from living on "automatic pilot" to living with greater awareness, presence, and intentionality. He pointed out how so many of us are going through the motions in life…We are experiencing things and doing tasks without actually being present and in the moment. By just closing our eyes and tuning into the body, we allow ourselves to relax and disengage from the chaotic world around us. We are able to identify what we are actually feeling.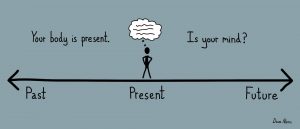 Most of us are constantly multi-tasking, balancing it all and having a "go-go-go" mentality- Quieting the mind and tuning-in (even for a few minutes) allows us to focus, have better clarity on what is most important, and connect the mind, body and soul.
One of the most interesting points learned, is that our brain is like a muscle that needs to be worked and strengthened! We learned that 20-30 minutes/day of mindfulness can actually stimulate an emotional awareness response and allow us to cultivate better ways of coping with trauma, stress or anger. Essentially, our emotional intelligence and focus strengthens, so our reaction or arousal response is more regulated. Being more mindful can allow you to react better to work stressors or in relationships…it helps you think calmly and relationally before reacting.
Mindfulness is the Balanced Beauty way to strengthen the capacity of your brain!
So…OK…What exactly is Mindfulness?
Mindfulness meditation is a form of mental fitness! It is the practice of bringing attention to an individual's present experiences, focusing on current sensations, sounds, emotions, and thoughts. Mindfulness brings awareness to one's self with the ability to reflect on one's own present self-conscious state.
What are its Benefits- Why Should I?
Research on the health benefits of mindfulness has shown that mindfulness has an incredible impact on both physical and mental health. Its practice has been proven to reduce stress and inflammation, positively affect the immune system, assist sleep quality and improve overall quality of life. On a physical level, mindfulness can have an impact on genes and their operation, and research has shown that mindfulness can affect gene expression and suppress genes that cause inflammation. This is important because inflammation has been directly linked to the development and spread of breast cancer and other diseases.
In addition to its health benefits, Mindfulness is a practice we can utilize to optimize our brain in ways that improve our focus, clarity, relaxation, productivity and joy. There are thousands of research articles demonstrating the efficacy of mindfulness in reducing stress, anxiety, depression, and improving overall wellbeing, and it is used as a evidence-based practice in healthcare, education, and business.
How Mindfulness Can Serve You:
Helps reduce self-defeating and ruminating thoughts

Helps you communicate and listen with greater mindfulness to family and friends

Helps you stop allowing your work life from bleeding into your personal life, and vice versa

Helps you get to the root cause of stress and how to better manage it

Helps develop and sustain a meditation practice …AND MORE!
Mindful Eating: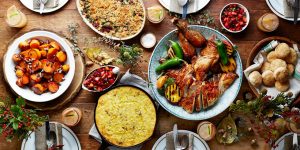 The same way you take a moment to close your eyes and tune in to your body is the same way you should approach eating your food. So many of us rush our meals or guzzle down our food without actually taking each bite moment by moment. This is especially true around the Holidays, particularly Thanksgiving!
This Holiday season, I would love for you to try incorporating Mindfulness with Mindful Eating. Explore your food with childlike curiosity. Look at each bite of food. Use all your senses to bring awareness to it. What does it look like? Smell like? Feel like?…When you taste it, where are the flavors hitting your mouth? Really pay attention to the ingredients, quality, textures… Make it a game and try to identify what they are.
When you eat mindfully you will savor each bite and have a better relationship to the food you are consuming. In turn, you will feel positive about each bite. This is an especially helpful technique for those struggling with an eating disorder or have a negative relationship with food….Mindful eating will help reorder thinking and recognizing the positive attributes.
With each bite bring mindfulness and thanks. Be grateful for each bite. This approach to eating will not only help you make better choices with the types of foods you are choosing, but it will slow you down, allowing you to notice when you are actually satisfied and full. It is a great way to reduce calories and have better portion control.
Happy Thoughts & Wishes This Thanksgiving!
As always, I am most thankful for YOU! Thank you so much for following The Balanced Beauty. It is my hope these techniques, recipes and tips shared allow you to live a healthy, happy life. It is my personal mission to help teach, guide and support you to feeling your best.
Below you can learn more about Cory and connect- should you be interested in learning more about Mindfulness and how to incorporate into your daily routine!
Instructor's Bio
Cory Muscara is the founder of the Long Island Center for Mindfulness. He has extensive professional training in Mindfulness-Based Stress Reduction (MBSR), Mindful Schools, Search Inside Yourself, and Breathworks Chronic Pain, and in 2012 spent six months in silent meditation living as a Buddhist monk in Burma. He is a certified hatha yoga instructor and Duke integrative health coach. Cory currently serves as faculty at Columbia Teachers College where he teaches mindfulness to school leaders and principals, and is an assistant instructor for the Master of Applied Positive Psychology (MAPP) at the University of Pennsylvania. Cory has lectured and taught mindfulness for a number of Fortune 500 Companies such as Prudential, Travelers, Johnson & Johnson, and Colgate; Universities such as NYU, Wharton Business School, Columbia and Dartmouth; and many different schools and hospitals. He regularly appears on the Dr. Oz show as a guest expert in the topic of mindfulness meditation.
Check out Cory's website at: www.LImindfulness.com