I LOOOOOVE COOKIES!
Growing up in Brooklyn, there were bakeries and diners with fresh baked cookies everywhere, and my favorite ones were the BIG GIANT RAIBOW SUGAR COOKIES the size of your head!!!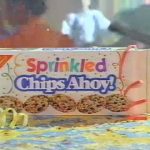 Years later, I found myself obsessed with what I called "CHIPS-AHOY Party Cookies"- Do you remember them? I will never forget, the commercial slogan was, "A Party In Every Bite." I remember taking a bite and dancing around the house like a little maniac "partying." They were always present at any childhood Birthday party or celebration.
These days, I still party the same way…
For me, the perfect way to celebrate, especially my Birthday, is to bake my own version of these "PARTY COOKIES." The only difference is (and apologies to bash my childhood favorite) Chips Ahoy are no longer on the "Balanced Beauty approved list"… On top of the fact that they are cookies and have sugar- They are loaded with fake, processed ingredients, hydrogenated oils, and are made with starchy flour.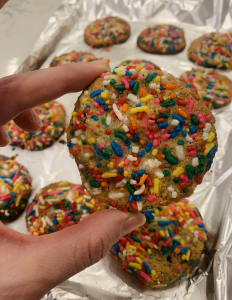 The cookies I eat and bake these days are always GRAIN-FREE, GLUTEN-FREE, and made with ALL-NATURAL INGREDIENTS… Yes, it's still a "sweet treat" but these cookies are totally approved when eaten on a special occasion, in moderation, and among a clean and BALANCED diet.
Of all my recipes, these PALEO-PARTY COOKIES are one of my favorites!!!
….Not just because they taste great, but because they include my favorite, happy RAINBOW SPRINKLES. While they are a "healthier"version to some of your favorite store bought cookies, they still taste amazing and perfectly match the energy and nostalgia I remember enjoying as a kid. I especially love the BiRtHdAy MaGiC & JoY they bring me after all these years.
When baking- Please remember to play fun music, dance around, and be sure to "HAVE A PARTY IN EVERY BITE!!!!"
For my heart & belly to yours, I hope you enjoy this special "childhood" treat!
Xo, Coach Aly
---
INGREDIENTS:
2 3/4 cups PALEO Flour ( I recommend Red Mill Paleo Flour)
1 tsp baking soda
1/2 tsp baking powder
1 cup butter, softened (do not MELT your butter)*
1 1/2 cups sugar
1 egg
1 tsp vanilla extract
Chocolate Chips
Rainbow Sprinkles (for mix-in and for dipping)
NOTE: ….AND YES- IN THE PALEO WORLD- AVOID SUGAR!!!
"GRAIN FREE PARTY COOKIES" …. JUST DIDN' HAVE THE SAME RING TO IT 😉
If wanting to keep these cookies fully paleo– Substitute Sugar with COCONUT SUGAR & skip the add-ins!
   
---
DIRECTIONS:
Preheat oven to 375 degrees.
In a small bowl, stir together paleo flour, baking soda, baking powder and set aside.
In a large bowl, beat an egg and add-in the vanilla. Next, add and cream together with the softened butter.* Add sugar and beat all together until smooth.
*Note: Do not melt the butter. For best results, take 2 sticks of butter and put in a microwave safe bowl. Place in microwave for aprox 30-40 seconds. You want butter to be SOFT to mix, but NOT melted. This will ruin/change consistency of the cookies
Gradually combine wet ingredients into the dry ingredients and blend until dough forms.
Once dough forms, add in rainbow sprinkles and chocolate chips (party time)!
When add-ins are blended, roll dough into balls and then dip the tops of the balls into rainbow sprinkles (to coat outside of cookie ball)
Place dough balls onto cookies sheets and bake until golden brown (approx 10-12 min)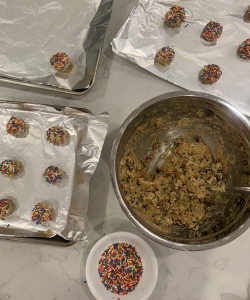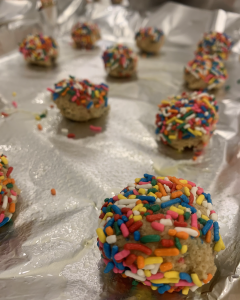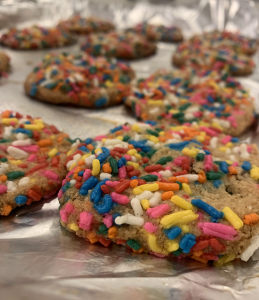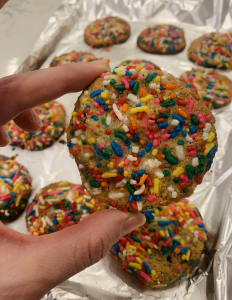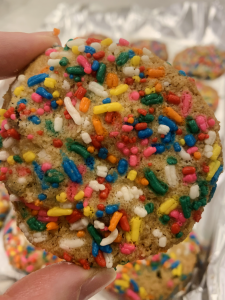 ---
It's Ma-Birthday!…

It's Ma-Birthdayyyy!!…

Gonna Bake Like It's Ma- Birthdayyyy!!

…Addin' Sprinkles Cuz It's Ma-Birthday!!!

And yes it's GlutenFree & GrainFree cuz it's Ma Birthdayyy!!!

(…Sorry, had to. Little Aly is in full force,  Bday-Mode)

---

On My Birthday- I like to GIVE Gifts!!!

Check today's InstaPost @1BalancedBeauty for A SPECIAL BIRTHDAY DISCOUNT PROMO, FOR TODAY, 1/19, ONLY!

* Work 1:1 with me to celebrate YOUR Bday & 2021, Balanced Beauty Style *