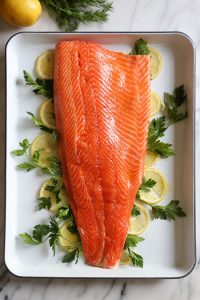 I hope you are all staying safe, stocking-up on healthy foods and enjoying some time making home-cooked meals….
But, I get it–We all wish we could be dining-out at our favorite restaurants this weekend!
During these times, I want you to know- YOU CAN get the same EASE and DELICIOUS flavors you're used to AT HOME. Cooking your own meals DOES NOT HAVE TO BE complicated to be incredible.
My favorite dish that's super simple to make and tastes like a dish out of your favorite foodie-spot is my SIMPLE SALMON RECIPE. One bite and you will feel like a master chef!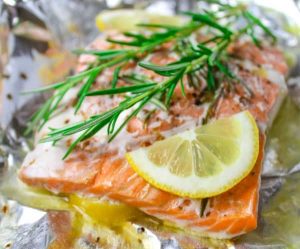 If getting fish is tricky for you right now — it's a great time to check out home-delivery services. The same way you might splurge on a night out, you can check out many gourmet fish delivery services, which are at your service during these times. It might even be safer to purchase your foods online and have them delivered, to avoid going out and to the markets.
This recipe is dedicated to those of you wanting to get that weekend-restaurant feel but with total ease and simplicity at home…. You can totally rock this one!
AND!….Balanced Beauty Tip:
While you're at it–  light some candles, dress-up, pull out your fancy dishes. Why not throw yourself and family a little at-home-party? Get creative and have some fun!
---
INGREDIENTS:
Salmon
Rosemary sprigs
2 lemons
2 Tablespoons extra virgin olive oil
1 teaspoon sea salt
1/4 teaspoon ground black pepper
4 cloves garlic
Fresh chopped herbs* – basic, thyme, parsley, dill, green onion etc
No fresh herbs? No problem!
Bake with with Garlic & Butter or Lemon & Butter– Still get a DELISH result!
DIRECTIONS:
Preheat oven to 375 degrees F and lightly lineament large baking dish or rimmed baking sheet with a large piece of aluminum foil.
Lightly coal with baking spray and then arrange rosemary sprigs on bottom. Place salmon on top.
Slice 1 lemon into rounds and place on-top. Lightly drizzle salmon with olive oil, sprinkle with salt and pepper, and then scatter chopped garlic cloves on top, along with remaining rosemary sprigs. Use juice of second lemon to pour over the top.
Fold the tin foil up and over the salmon until it is completely enclosed (like a little package). If your piece of foil wasn't large enough, just place a second piece on top and fold the edges to seal and form the package… Leave a little room for some air to circulate.
Bake the salmon for 15-20 minutes, until it is mostly cooked through at the thickest part (cooking time varies depending on how thick your fish is).
Once baked, remove salmon from oven and open foil (be careful of the hot steam). Change your oven setting to broil, then return the fish into oven for about 3 minutes on broil– This will help make the top of the fish and garlic golden brown and complete the cooking process. Sprinkle with sea-salt to taste as final garnish.
Serve over veggies (like asparagus, spinach, broccoli) or brown rice. I like serving with a lemon edge for additional lemon squeeze on top… Adds great vitamin c, another added health benefit to boost immunity!
---

HEALTH BENEFITS:
Lean Protein- Great for weight-loss/management
Great support for Brain Health
Rich in Omega 3 Fatty Acids
Can help risk of heart disease
High in Mood-Boosting B Vitamins
Great for glowing skin, healthy hair, skin and nails
Filling and satisfying
Great source of potassium/ Great workout recovery food
Can help fight inflammation
A NUTRITIONAL POWERHOUSE- TOP BALANCED BEAUTY PICK!!!!
---
NOW is a crucial time to fill your home with SUPER FOODS to boost your immunity!
"You ARE what you EAT" so select foods that are natural, from the earth and beneficial to your overall well-being.
If you need support during this time, reach out for a 1:1 phone consult or hold yourself accountable to weekly Email support. I am here to educate, provide you with inspiration and help you navigate new healthy choices!
Email: Info@TheBalancedBeauty.com