I love when food and snacks are bright, beautiful and happy.
To me, fruits and veggies are not just healthy choices but are "happy" choices. Their colors are bold, beautiful, vibrant and uplifting, without any fake additives or processed food colorings….It may be corny to some, but when I see big, bright and beautiful fruits- like an orange for example-  I feel like it's like nature's way of smiling and saying EAT ME! I'm going to make you burst with HAPPINESS!!! 🙂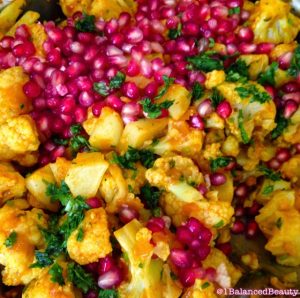 Ultimately, the saying, "you are what you eat" is very true- So try to make it a goal to select snacks and foods, that are bright, with beautiful colors and combinations. I guarantee the more colorful your diet, the better you will feel (especially to help lift you from the cold, winter blues).
Today's side-dish/healthy snack is one of my favorite happy choices because the colors light-up any table and look absolutely beautiful when paired together.
This dish is also vegetarian/vegan and a great healthy snack for anyone looking to ditch the chips and have a great tasting, healthy alternative.
Cauliflower, the star of this dish, is super low-cal and high in fiber. Great to keep you full and satisfied, while keeping it summer-body ready.
---
INGREDIENTS:
4 cups cauliflower, cut into florets
1 tbsp garlic
2 tbsp coconut oil
 1 tbsp curry powder
kosher salt & black pepper, to taste
1 tsp. agave or maple syrup (optional: for touch of sweetness if desired)*
¾ cup pomegranate seeds (or cranberries/dried cranberries work well too)*
Parsley (to garnish)
DIRECTIONS:
Set oven to 375 degrees & line a baking sheet with foil
On top of foil, mix cauliflower with all ingredients, except for pomegranate seeds and parsley (both will be used as garnish later)
Bake for 35-40 minutes or until cauliflower is golden
Allow to cool and Serve warm or tastes great after chilling in the refrigerator to serve cold (great as a snack or side, served with protein of choice)
When serving, sprinkle pomegranate (or cranberries) for beautiful color and parsley for perfect seasoning!
---
A quick February note….
As we approach a full year of coping with Covid-isolation and now the freezing, dark winter temperatures for many of us– It can be challenging to keep moods boosted and energy lifted. I hope this Blog and recipe inspiration gets you thinking about your choices in a new and fun way…
Happiness is a choice we make and everything in life is a matter of perspective!
From the foods we eat, to the music we listen to, conversations we engage in, social media accounts we follow– It's super important, now more than ever, to take note of how you are ingesting ALL THINGS in your life. Everything you choose to consume and ingest is connected and has an effect on your body down to a cellular level.
Holistic Health is looking at the entire framework of your life and recognizing how choices made in one area, can and will impact another…
Making some changes in your diet can lead to better, happier changes elsewhere.. Take note today of the POWER of your choices and strive to make healthy, happy ones EVERY DAY!
Should you need assistance or support during these times, I am always an Email or 1:1 Conversation away!
EMAIL: Info@TheBalancedBeauty.com
Daily Tips & Inspiration: @1BalancedBeauty
Xo, Stay Safe, Be Well…Sending LOVE!