It's that time of year again— When we all gather together to watch commercials and a star-studded Half-Time-Show!!!
OK….OK…On a serious note–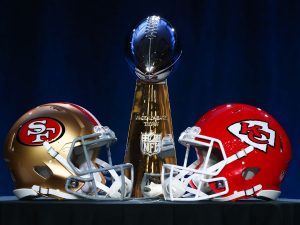 A time to get together with loved ones and EAT yummy SNACKS and FOOD!!!!
…..And mayyyyyybe a little bit of football too.
This year's SUPER BOWL "SUPER SNACK" Recipes are inspired by the native foods of San Fran, Kansas, and a little dessert to plump-up those BOOTIES, so we can shake it like JLo & Shakira 😉
Recipes are curated to provide ideas and options to enjoy indulging, without the guilt, and to stay on-track with those healthy (field) goals… ENJOY!
---
SAN-FRAN KETO CRAB CAKES
Did you know seafood, like DUNGENESS CRAB, is an iconic food in San Fran? Crab is a Balanced Beauty approved food because it's low-fat, high protein, rich in vitamins and contains healthy Omega-3 fatty acids.
This healthy recipe inspo comes from Wholesome Yum – A Gluten-Free, Keto-Friendly option! With their individual portion-size, these crab cakes will make it easy for serving and enjoying. It's high protein content will also fill you up and keep you satisfied throughout game-time!
INGREDIENTS:
1/2

cup

Onion

(chopped finely)

3

tbsp blanched almond flour

 

(or golden flaxseed meal for nut-free)

1/4

cup

Egg white

2

tbsp mayonnaise

1

tsp Worcestershire

1

tsp mustard

1

tbsp dried parsley

1

tbsp old bay seasoning

2

tbsp

 olive oil 

(divided)
DIRECTIONS:
Heat two teaspoons of olive oil in a skillet over medium heat. Saute chopped onion for about 10 minutes, until translucent and lightly browned.

Meanwhile, mix all other ingredients except the crab meat and remaining olive oil. When everything is well combined, add the sauteed onions, and finally fold in crab meat very gently. Try to avoid breaking up the lumps of crab meat.
3. Form 8 patties and place on a lined baking sheet or cutting board. If possible, refrigerate for at least 30 minutes (this will help the crab cakes stay together when frying).
4. Fry crab cakes on a skillet over medium heat, in two batches of four. Use about two teaspoons of oil for each batch, and cook for about 3-5 minutes per side, until browned.
KANSAS "NO PLACE LIKE HOME" BBQ SAUCE (For Ribs, Chicken, Fish) 
It's said that the "official food" of Kansas City are BBQ Ribs. . . Whether sweet, spicy or tangy BBQ Sauce can make any meat or dish taste delish, but often times store-bought sauces can be filled with additives, artificial ingredients, colorings and TONS of sugar.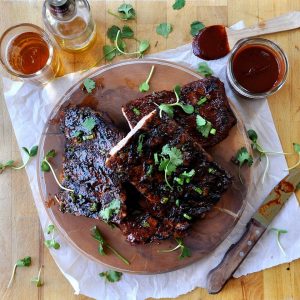 Below is a an all-natural BBQ sauce I LOVE from Eating Birdfood that is vegan-friendly, gluten-free, paleo-friendly and all-around BALANCED BEAUTY APPROVED for your favorite BBQ-Style dishes! This sauce can be added to chicken, shrimp, ribs, tofu or stir-fry dishes.
INGREDIENTS:
1/2 teaspoon

olive or coconut oil

2

cloves garlic, minced

1/4 cup

yellow onion, chopped small

1

(15 oz) can tomato sauce

2 Tablespoon

s tomato paste

3 Tablespoon

s maple syrup*

1 1/2 Tablespoon

s molasses

1 teaspoon

apple cider vinegar

1 teaspoon

tamari or coconut aminos

1 teaspoon

dijon mustard

1 teaspoon

sea salt

1/2 teaspoon

paprika

1/4 teaspoon

cayenne pepper

1/2 teaspoon

chili powder

1/2 teaspoon

ground pepper
dash of cinnamon
Note: To lower the sugar content, use powdered or liquid stevia or monkfruit instead of maple syrup. Start with a little (like 1/8 teaspoon) taste and add more until the sweetness level suits your needs.
DIRECTIONS:
Add oil to a medium sized saucepan and heat over medium heat. Add garlic and onion and sauté until fragrant, about 5 minutes. Make sure to stir the mixture frequently and watch the garlic because it can burn easily.
Add tomato sauce, tomato paste, maple syrup, molasses, apple cider vinegar, tamari and mustard into the pan. Stir to combine.
Add in seasonings and spices: salt, paprika, cayenne pepper, chili powder, ground pepper and cinnamon. Stir to combine.

Allow mixture to come to a simmer over medium-low heat and cook for about 12-15 minutes, stirring frequently. Just be careful because if the heat is too high, the mixture will start to boil and splatter.

Use right away or let cool and refrigerate for later use.
---
GLUTEN-FREE CHOCOLATE "BALLS"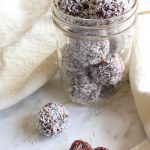 What's game-day without a sweet ending?
Even though most of the day you will be filling up on apps and "real" food, there is always room for dessert – And since this Blog is sports themed, lets bring some BALLS into the mix! 🙂 These little babies from The Soccer Mom Blog are perfectly portion-sized and made with wholesome, all-natural ingredients. One ball goes a long way and sure to be a crowd-pleaser. 
INGREDIENTS: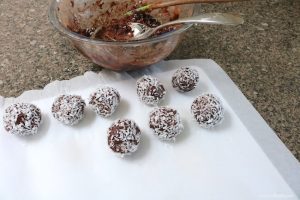 1 1/2

cups

dates

1 1/4

cups

chopped walnuts

5

tablespoons

raw cacao powder

3

tablespoons

pure maple syrup

1

cup

shredded coconut

1

tablespoon

coconut oil

2

tablespoons

warm water

if needed
INSTRUCTIONS:
 Place the dates in a bowl of warm water for twenty minutes to soften. While they're soaking, grind the walnuts in a food processor. Leave a few chunks for texture.

Add the dates to a food processor and rough chop until combined (but a few walnut chunks still remain).

If mixture is too thick, add 1-2 tablespoons warm water slowly and keep blending. You may need to pause and scrape down the sides. The mixture will be very sticky.

Scrape your date/walnut batter into a large mixing bowl.

Add to bowl: 5 TB raw cacao powder, 1/4 cup + 2 TB shredded coconut (make sure you still have about 2/3 cup set aside for rolling later) and 3 TB maple syrup. Mix with a fork until everything is combined and "wet looking". The mixture should be sticky.
To make balls:
Line a large plate or cutting board with parchment paper. Pour the rest (about 2/3 cup) of the shredded coconut onto another plate. Place coconut oil in a small bowl next to your work area.
Grease your hands with a bit of coconut oil, grab some of the date mixture and roll it into a ball (about one inch in diameter).
Once rolled, place the ball into the plate of coconut and sprinkle/roll it all about pressing down to make sure it sticks. Place the coconut covered ball onto the parchment paper.
Repeat until you run out of batter (makes 18-20 balls).
Allow to set in freezer for 20-30 minutes. Store in an airtight container.
---
PAST GAME DAY SNACK RECIPES:
Victor Cruz Simple Salsa
Peyton has a lot at.. "Steak Fries"
Aly's #1 Draft Pick: "Guacamole Eggs"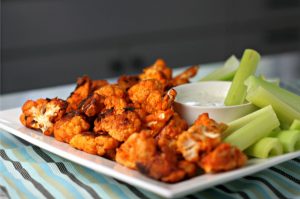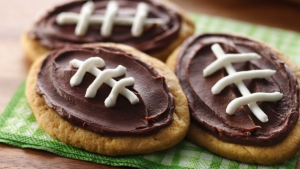 Flourless, Gluten-Free Peanut Butter Chocolate Football Cookies
---
Search the Blog for other Gluten-Free / Guilt-Free Recipes to make for game-day, including TURKEY CHILI, CAULIFLOWER CRUST PIZZA or scroll through VARIOUS BAKED-GOODS & "HEALTHY" DESSERT OPTIONS.
Wishing you a HAPPY Sunday & KICK-OFF to February!
XO,
Coach Aly