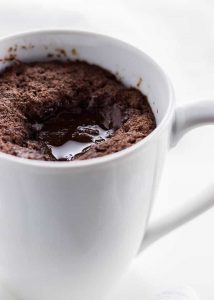 This is an easy, delicious and healthy chocolate mug cake that's also gluten-free, dairy-free and paleo. A healthier alternative to the standard Molten Mug recipes out there. The best part is, this recipe is 3 easy steps and takes just 2 minutes to make!
SERVES: 1 Cake
1 egg
2 tbsp maple syrup
1 tsp coconut oil, melted
1 tsp vanilla extract
¼ cup almond flour
2 tbsp raw cacao powder
*For extra sweetness: Add dark chocolate chips or top with berries, banana or cool whip
INSTRUCTIONS:
Whisk all of the wet ingredients together in a measuring cup.
Add the almond flour and raw cacao powder and stir until you have a batter.
Pour the batter into your mug and microwave for 1-2 minutes, or until the cake is cooked through.
---
Below is the original Molten Mug Recipe I was given, that inspired me to find a healthier version. When reading the recipe below, you can stick to the original or make Balanced Beauty substitutions, as listed for another gluten-free, dairy-free cake option!
Balance is key to living a healthy lifestyle!…I am all about looking good, while remaining sane and realistic by indulging in sweets, like cake, every so often. Indulging helps to keep me on-track for the long-term.
All my recipes are designed to satisfy your sweet tooth, while also being mindful of better ingredients for your body and digestive system. If substituting and watching the ingredients you put into your body, you will look and feel better, guaranteed!
*Balanced Beauty Tip: When trying to lose weight, it is not about restricting yourself; rather, coming up with healthier alternatives and sticking to the theme of balance and moderation.*
ORIGINAL RECIPE, MOLTEN MUG CHOCOLATE CAKE:
1/4 C all-purpose flour–

Sub for Gluten-Free flour

3 T Coca Powder

1/4 t Baking Powder

4 T Granulated Sugar-

Sub with honey, syrup or banana

1/4 t Salt

1/4 C milk-

Sub with Almond or Coconut Milk

3 T vegetable oil-

Sub with Olive or Coconut Oil

2 T chocolate chips-

Sub with dark chocolate chips
Hope you love this recipe as much as I do… On The Balanced Beauty plan, you can have your cake and eat it too!