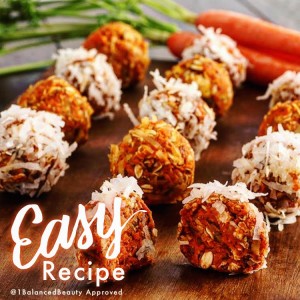 A simple snack with the right balance of texture and festive flavor in every bite!
INGREDIENTS:
Yields 12 bites
• 3/4 cup Quaker Oats
• 1 cup carrots, finely shredded
• 1 tsp. Cinnamon, ground
• 1/2 cup dates, chopped
• 1/3 cup almonds, finely chopped
• 1/3 cup coconut flakes *
Optional:
Add raisins or touch of honey for sweetness!
DIRECTIONS:
Stir first 5 ingredients together.
Form the dough into tablespoon-sizes balls
Dip in coconut flakes
Refrigerate 1 hour before eating.
This recipe is great to take on-the go, stash in your fridge for a quick bite or as a healthy snack alternative to sugary cookies for the kids!
Additional ideas: Add a scoop of vanilla protein powder for pre or post workout OR add dark chocolate chips for when that sweet-tooth is craving dessert.
Recipe inspo from Quaker Oats- Balanced Beauty tested and approved!