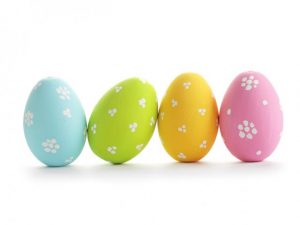 SPRING is here and Passover & Easter are near…Both Holidays always make me think of one Balanced Beauty food staple- An EGG.
What's more perfect than an EGG? It's high in protein, low in calories and easily digestible for a meal or snack any time of day. There are tons of ways to make eggs but I have just discovered a brand new favorite: EGG CHIPS!
These chips are super simple to make, healthy and great to munch on any time of day.
---
INGREDIENTS

:
4 egg whites
1/2 teaspoon water
1 teaspoon of garlic or garlic powder
1 teaspoon of sea salt
1 teaspoon grated parmesan cheese
DIRECTIONS:
Preheat oven to 400 degrees. Grease a muffin tin with non-stick cooking spray.
In a large bowl, whisk together egg whites, water, garlic powder and salt until combined. It will be fluffy in texture.
Evenly distribute egg white mixture into muffin cups (enough to cover the bottoms). Sprinkle grated parmesan into each cup. Feel free to use any other kind of cheese or additional seasonings, if desired.
Bake for approximately 15 minutes, or until chips are crunchy. Remove from oven and allow them to cool for a few minutes- Serve and enjoy!
Thank you to "Accidentally Wonderful" for this Gluten-Free / Healthy snack Inso!
---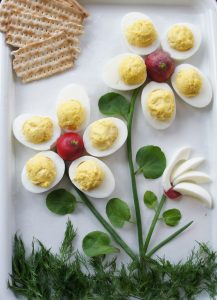 LOVE this beautiful flower platter for a Spring or Passover Dinner table!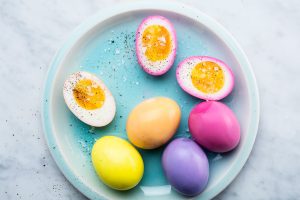 …And these colorful eggs for a Easter treat!…Try using all-natural dyes, like beet coloring or soak in other whole-food options, to avoid artificial coloring.
Wishing you & your families a wonderful SPRING and Holiday Season Xo, Coach Aly