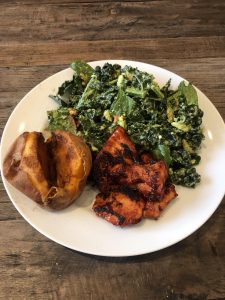 Hi Beauties!
I often post what I'm cooking for dinner in my Insta-Story and this one seemed to spark more interest and appetites than ever before!…And since out of a poll 100% of you wanted the recipe, here it is!
This is a great one because its super easy and I am going to give you the EXACT ingredients I used, so you can get the same result at home 🙂
Spicy BBQ Chicken with Sweet Potato and a flavorful Kale Salad— This combo is high protein, fiber, loaded with vitamins, essential nutrients and is PERFECT for a post-workout recovery meal, since it gives you a perfect protein/healthy carb mix… (Of course, it is also gluten-free)!
Note: Chicken, Sweet Potatoes and Kale are TOP Balanced Beauty SUPERFOODS that are ALWAYS on my shopping list- I encourage you to try new recipes using these delicious and good-for-you options!
INGREDIENTS

:
Sweet Potatoes (1 per person)
Chicken (Marinate chicken in BBQ sauce before cooking to really enhance flavor)
Kale
Low-fat Feta
Avocado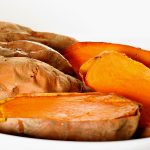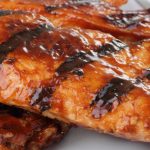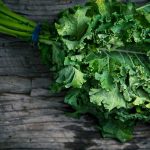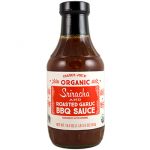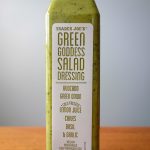 DIRECTIONS

:
Heat oven at 400 degrees.
Rinse sweet potato, dry and then wrap in tin-foil– Place foiled sweet potatoes on a baking sheet and slide into oven. Cook for 1 hour or until sweet potatoes are cooked though. (Note: When finished, I like to sprinkle with cinnamon for extra flavor)!
While sweet potatoes are in the oven, place marinated chicken into pan and cook on each side for about 5-10 minutes flipping, until cooked through/ Add sauce, as desired (I personally like to leave on heat longer to let chicken char on each side. . . Since it is cooking within the marinade it still stays tender)… If you have a grill- fire it up!!! Grilling will definitely enhance that BBQ flavor.
As chicken is cooking, I like to assemble my salad! Wash and rinse kale and place in a bowl– Add in feta, diced avocado and add in the green-goddess dressing. Love this dressing, as it has a delicious bright basil taste that really pairs nicely with the spice of the bbq sauce.
Last step is to serve and enjoy– All the flavors of a country BBQ, while staying healthy and on-track with summer body goals! 🙂
---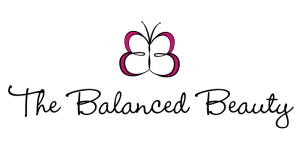 Do you have a favorite meal that you want to make healthier? Gluten-free? Better for your family? Email me! I'd love to take the flavors you love and provide you with some alternative ways to ensure they are GOOD-FOR-YOU!
Often times people think getting healthy/losing weight means giving up the foods they love and that just isn't true! …It's all about healthy swaps and tweaks. YOU CANNNN LOOK GOOD & ENJOY YOUR MEALS!!!
And remember, it's all about BALANCE!
XO HAPPY SUMMER,
Coach Aly