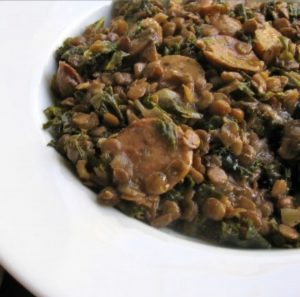 Protein should always be at the center of your meals, especially dinner.
This lentil stew is the perfect option to serve a large family or to make and store/freeze in-bulk, to heat up and eat throughout the week.
It's protein-packed and full of the same savory spicy, flavor and quality you would find in a restaurant– yet is so simple to make right in the comfort of your home.
Spoiler Alert: There's WINE used in this recipe (…you're welcome)!
Cooking with a small quantity of wine will enhance the flavor of your dish. The alcohol in the wine evaporates whole the food is cooking, and only the flavor remains. Boiling down wine concentrates the flavor, including acidity and sweetness. A little will go a long way…and if you sip while you cook, I am sure your dish will come out tasting even better. Let cooking be a fun activity and stress-reliever during this time in quarantine!
Speaking of quarantine, a slow-cooker is also an amazing cooking tool to utilize with your extra time and is the best option for this stew. Cooking all day will really enhance the flavors and make it a hearty- mouthwatering dish. The aroma as it cooks will also promote feel-good vibes, as this stew is my healthy spin on a Comfort-Food classic. If you DON'T have a slow-cooker, a large pot on low-heat will also do the trick.
This lentil stew is made with chicken sausage to add extra spice, flavor and heartiness (tastes AMAZING and highly recommend); However, if you want to keep this recipe a little "cleaner/leaner" and vegan-friendly, just exclude it or use a vegan-friendly alternative.
BALANCED BEAUTY TIP: Eating chicken sausage in a small quantity and the right balance, is totally Balanced Beauty approved and can be a great protein addition in a dish like this- And yes, it's gluten-free!
Stay safe, healthy and enjoy this one– Crafted with all the best Balanced Beauty-approved and protein-packed ingredients; from my healthy, happy kitchen and heart to yours!
---
INGREDIENTS

:
2

cups dried lentils

I used Brown lentils but French lentils get the least mushy..Any lentil will work!

Chicken Sausage

I used Organic Mild Italian from Whole Foods, which uses no antibiotics or nitrates (removed from casing- follow-in steps below)

Olive oil

1

large yellow onion, chopped

Sea salt

Pepper

6

garlic cloves, chopped

1

teaspoon onion powder

1

teaspoon garlic powder

1 teaspoon

oregano 

1 teaspoon red-pepper flakes

Freshly ground black pepper

¾

cup dry white wine- I used Chardonnay 

1

bay leaf

1

(14-ounce) can chopped tomatoes

6

cups vegetable stock (or you can use chicken stock too)

GREENS- Kale & Spinach work great. Perfect opportunity to sneak them into your dish, as they absorb the flavor and are hidden 😉

1

tablespoon red-wine vinegar

Chopped fresh basil, for topping

Grated Parmesan, for topping
DIRECTIONS: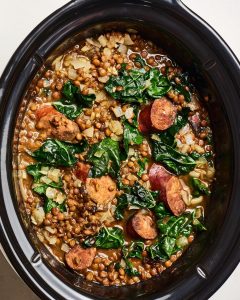 1. In a large skillet over medium-high heat, drizzle some olive oil and cook the sausage (cut into rounds or chop, your preference- I personally remove the sausage from its casing and cut 1/2 into rounds and dice the rest to have a mixture of both consistencies) About 8 minutes or until browned. Once cooked, transfer into your slow cooker.
2. Add the onion to the skillet, season generously with salt, and cook, stirring occasionally, until softened and translucent, about 5 minutes. Reduce heat to medium-low, add garlic and cook until softened and fragrant, about 2 minutes. Add the red-pepper flakes, the remaining spices and several generous grinds of black pepper. Stir to combine. Increase heat to medium-high, pour in the wine and stir well, scraping the bottom of the pot. Let the wine bubble until the pan is almost dry, about 3 minutes.
Note: The wine will absorb. You can reference my video on Instagram @1BalancedBeauty
 3. Scrape the skillet mixture into the slow cooker with the sausage. Add the bay leaf and the lentils. Add the tomatoes with their juice.  Pour in the vegetable stock. Season generously with pepper and add 1/2 teaspoon or pinch of sea salt. Do not add salt now if you are using fully salted stock. Stir well to combine all ingredients. Cover and cook on low until the lentils are tender (Best results: about 6 to 8 hours). Serve in bowls and top with some grated Parmesan for that perfect extra touch of flavor!
The BEST thing about this dish is a small bowl will be really filling and satisfying. Save the rest and eat throughout the week.