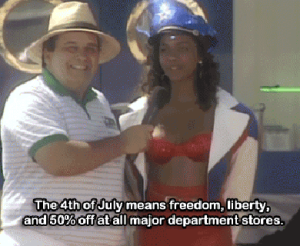 4th of July Episode, Saved By The Bell
My
Balanced Beauty
clients know that Holidays are the times to celebrate with family, friends and
indulge (and yes, that includes shopping too)
!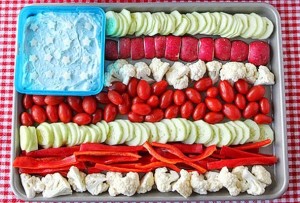 Love this creative 4th of July-themed veggie app!
I encourage my Beauties to "eat clean" the days leading up to the Holiday, enjoy the day, and then get right back on track with their healthy, clean eating choices the next day. Living a "Balanced Beauty Lifestyle" is all about moderation and of course, BALANCE!
I would never restrict a client or tell someone they cannot have something. When you limit yourself or go to extremes, you will only crave and want that "something" more. Listen to your body and be mindful when making choices. Think "balance" when it comes to your calories, plates, and workouts.
The great news is, there are plenty of healthy, delicious options for a 4th of July BBQ Extravaganza! You can create a menu or attend a party eating all day long, while totally staying on track with your weight loss or health goals!
Below are my "
Top 10 Balanced Beauty Tips
" for a
happy, healthy 4th of July BBQ!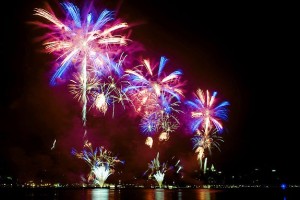 Grill, baby, Grill!
When it comes to selecting meat, always opt for the highest quality, shop organic and select lean cuts.
Fish, Chicken, Tofu, Hamburger (without the bun) are all great choices for protein!


Grilled fish, a healthy option for any BBQ!

Hot dogs and sausages are not the healthiest options but if you can find brands that are all-natural, not overly processed or loaded with sodium, go for it! It is the 4th after all, and if you are ever going to have a hot dog- this is the day! 
Load your plate with veggies! Grilled Eggplant, Zucchini, Asparagus, Onions, Tomatoes, Corn…the list goes on! Grilling produce can be one of the healthiest, most delicious ways to fill your plates and to stay on track with your goals.
Sides like green salads, quinoa salad, avocado & tomato salad are all healthy options. Avoid heavy mayo and starchy pasta and potato salads.
If hosting or bringing a dish, think healthy substitutes!


Quinoa salad with black beans, corn, peppers, & cilantro

For example: gluten-free pasta, quinoa or brown rice for any "pasta salad" recipe, sweet potatoes instead of white, mashed avocado instead of mayo, rice crackers instead of chips, celery and carrots instead of chips!..Depending on your goals, try to replace and substitute for the healthiest option when possible.

Make grilled vegetables and salads the majority of your plate and have your portion sized protein along side.
Grilled peaches, pineapple or other fruits can be a creative addition to the menu…Especially to cap off the evening as your dessert. Get creative!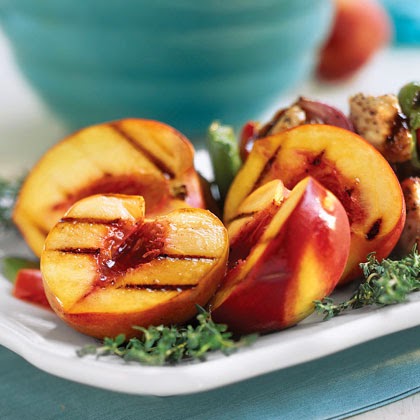 Grilled Peaches
9. Avoid condiments high in sugar, like ketchup. Always: go all-natrual/organic. Always: avoid any hydrogenated oils and artificial sweeteners!!! These are hidden in condiments and dressings…be on the lookout for these sneaky ingredients!
10. If you are not hosting a party and have no control over the menu, bring a side dish and/or dessert! It is a win/win because your host will appreciate the gesture and you can feel great knowing you have something healthy to munch on …Just be sure to being enough so EVERYONE can enjoy! Planning ahead and being organized is a huge part of being a total,  "Balanced Beauty!"
Are you hosting? Need help creating and organizing a menu?…I've got you!
The Perfect Balanced Beauty BBQ:

Appetizers: 
Homemade Guacamole and Hummus, with side of carrots, celery and gluten-free rice crackers (corn chips, also OK and gluten-free)
Grilled shrimp, seasoned with olive oil and sprinkle of sea salt
Main Course:
Protein: Fish, Chicken, Burgers (all lean, organic, quality/ Tofu for vegetarian guests)
Veggies: Eggplant, Onion, Asparagus, Corn (corn seasoned with parmesan)
Side Salad Options: Avocado and Tomato salad (sprinkle with sea salt), Gluten-free pasta salad, Big green salad, loaded with veggies or Quinoa salad (my favorite: green apples, spinach, feta, dried cranberries and pecans)
Dessert Ideas:
Grilled Peaches or Pineapple rings (add a dollop of TruWhip)
Fruit salad- Berries are best since low on the glycemic index. Make a large salad with blueberries, raspberries and strawberries–perfectly themed RED AND BLUE!
Pavlova
Almond cookies
Assortment of macaroons
American Flag Cake- If making traditional "flag cake" Opt for Rice Flour, instead of white flour and use TruWhip instead of frosting. Load extra berries on top and serve on the side!
All-natural fruit Ice Pops!!! Blend your favorite fruits together, with Greek Yogurt or Water and pour into molds.
Frozen fruit-fruits like grapes or bananas are great to slice and put in the freezer than serve as dessert-very refreshing
* All gluten-free/ light options
"Spa Water"- Have pitchers of infused water. Try different combinations: orange and strawberry, cucumber and mint, blueberry, etc. Leave fruit whole or crush and blend for added flavor.
Make flavored ice-cubes. Pour all-natural orange or grapefruit juice into trays or make "spa water" ice cubes to add a pop of flavor to any beverage. Creative, fun…Total crowd pleaser!
Have club soda available to "water down" cocktails or make white-wine spritzers. Light and saves added sugar and calories!
If trying to lose weight, it is best to abstain from alcohol, but if you have a few cocktails, my drink of choice is: Tequila… Balanced Beauty Fun Fact:  Tequila is gluten free and the only alcohol that is known to be an "upper." My go-to cocktail of choice is: Tequila, Club Soda, Splash of Cranberry and a lime (sometimes a splash of lemon juice). I call this "The Aly Cat"
Red wine is a heart-healthy choice
Avoid beer and sugary cocktails…(especially if indulging with food)
4th of JULY HOLIDAY CONTEST!!!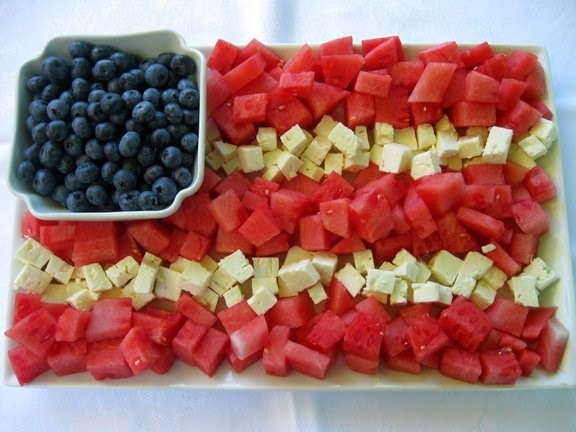 Great combo: Watermelon, Feta, and Blueberries!
How to Enter:
Create ANY of the above

Balanced Beauty

"approved" or "healthy themed" items, take a photo, post to Instagram and tag with

@1BalancedBeauty

OR

Email

: HealthCoaching@TheBalancedBeauty.com

July 4th- July 5th.

The TOP 4 PHOTOS will be put to a VOTE!
The #1 appetizer, meal, salad, dessert, beverage, etc will

WIN a FREE 4 Week Balanced Beauty Health Coaching Program!!!!
Your 4 Week Program Includes:
An in-depth, 60 minute consultation, reviewing your health history and all health and wellness goals
A customized plan made for YOU! This plan will be specific to your unique needs, goals, schedule, food likes/dislikes, allergies and the realities of your daily grind.
Weekly Emails, with your "plan for the week"
 Check-ins to keep you motivated and on-track with your goals!
Unlimited Email access to Coach Aly, for questions and support!
No rules!!!! Just great photos (multiple entries permitted).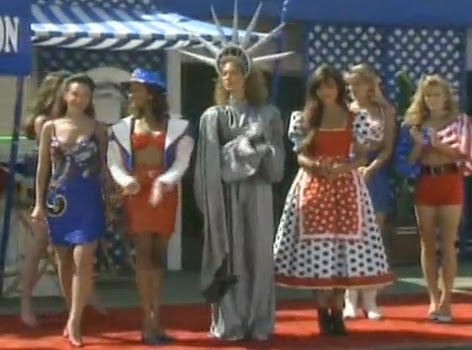 Saved By The Bell's 4th of July Balanced Beauties!
If you are a
current client
and your photo is selected, you can choose to extend your program or have one "
MASTER SESSION
" of choice (
all expenses on me
):
1. Shopping for YOUR Body-
Supermarket walk through or wardrobe assessment
2. Wacky Workout– Lets try out a hot new class like Aerial Yoga, Barry's Bootcamp, or a Barre class!
3. Cooking Class

–

Lets get together and cook a healthy, simple, affordable "go-to" dinner
I love all my "Balanced Boy" followers- You guys rock and of course, can play too!!!!!!
Be creative.
Be healthy.
Be
YOU!!!!
GOOD LUCK & HAPPY 4th!!!!!!!