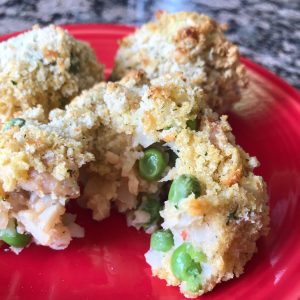 I love my classic meatballs but as the seasons shift and spring grows closer, I like to change things up and lighten my meals with less meat and more veggies…
Rice balls are another Italian favorite but they are made with rice, breadcrumb and can be very carb-heavy… That's what sparked the Balanced Beauty idea for CAULIFLOWER Non-Meat MEATBALLS! This is the perfect option for those who want that Italian flavor and heartiness, without the meat or full carb-heavy meal.
This lighter, lower-carb, gluten-free version swaps the meat and rice for cauliflower, and rather than frying in oil, you bake them!
---
INGREDIENTS

:
2 1/4 cups riced cauliflower (frozen- you can get at Trader Joes works great)
1 teaspoon sea salt
2 tablespoons organic marinara (plus more for serving)
1/2 cup part-skim shredded mozzarella
1 large egg, beaten
1/4 cup gluten-free bread crumbs
1 tablespoon grated parmesan cheese
1/3 cup peas
Cooking spray
DIRECTIONS

:
Heat a medium skillet over medium-high heat.  Add the cauliflower, peas, salt and marinara and cook 6 minutes on medium heat, stirring until the cauliflower is tender and heated through.
Remove from heat and add the mozzarella cheese to the skillet and stir well to mix. Let it cool -about 5 minutes (Tip: Add mozzarella cheese while the cauliflower is still hot so it all melts together. Then let it cool a few minutes before rolling them up into balls).
Spray a 1/4 cup measuring cup with cooking spray and fill with cauliflower mixture, leveling the top. Use a small spoon to scoop out into your palm and roll into a ball. Set aside on a dish.
Repeat with the remaining cauliflower, you should have 6 balls.
Place the egg in one bowl and the gluten-free breadcrumbs in another.
Add the parmesan to the crumbs and mix.
Dip the ball in the egg, then in the crumbs and transfer to a baking sheet. Spray the top with cooking spray.
If baking in the oven, bake 425F 25 minutes, until golden.
Serve with marinara sauce, for dipping.
Make the balls smaller in size and they can serve as a great appetizer at a party — Add to sautéed spinach and sauce and they make a great dish on their own.
The part-skim mozzarella has protein, which is your non-meat alternative– For extra protein, you can add part-skim or fat-free ricotta cheese. To those sensitive to dairy, opt for rice cheese or dairy substitute. You can also serve with extra veggies, like mushrooms or extra peas on the side, which also provide additional vegan/vegetarian protein.
Note: I used a little extra breadcrumb on balls photographed to give extra crunch and make more of a crust on the outside- you can use less to just help bind together.