Valentine's Day is this week, and I know one of the quickest ways to your Valentine's heart will be through their stomach!
That's why I wanted to share this RED, FESTIVE, DELICIOUS and BALANCED BEAUTY-APPROVED dish with you!
This tastes just like your typical chicken-parm dish, but serves it up with a healthier spin… It will also allow you to leave some extra room and cals for those dark chocolate covered strawberries (also Balanced Beauty approved)!
Eating healthier doesn't mean ditching your favorite foods- it just means swapping out certain ingredients and making some minor substitutions… I also recommend using extra spices like basil, oregano and parmesan to enhance the flavor.
LOVE will definitely be in the air with this mouth-watering classic!
---
INGREDIENTS:
4 boneless skinless chicken breast halves
3 Eggs- whisked in bowl
1 Cup Gluten-Free Bread Crumb- in bowl (I recommend REGULAR or CHICKPEA CRUMBS )
4 Cups Tomato Sauce
4 slices of fresh mozzarella or grated fresh mozzarella (melts easier)- Part skim
1 cup Ricotta- Part Skim (optional)*
Oregano
Salt & Pepper
Parmasean cheese
Olive Oil
Chickpea or rice Pasta – optional*
Remember– Best ingredient of all is LOTS OF LOVE…Especially on Valentine's Day!!!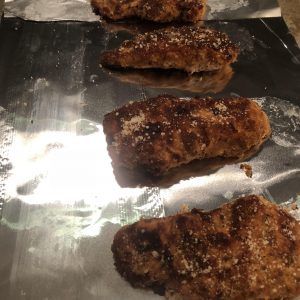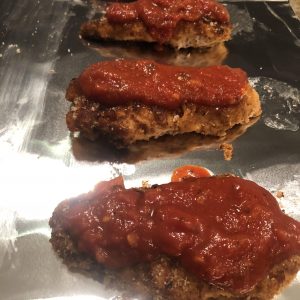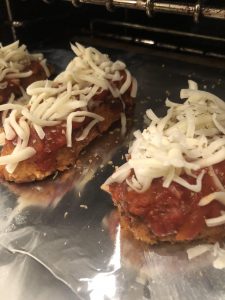 DIRECTIONS

:
Pound chicken to flatten and season with salt and pepper lightly to taste
Dip chicken in egg, then in bread crumbs
Fry in olive oil in hot skillet, turning and browning for 10 minutes or until chicken is done *(Sprinkle with Parmesan cheese to coat along with bread crumb while cooking for extra flavor)
Remove from skillet- allow to cool
Place cooked breaded chicken onto sheet, add tomato sauce and cheese (optional ricotta) and place in oven on broil- Cook until cheese is melted and is golden brown.
While chicken is in the oven, boil water and make some pasts to serve over — Chickpea or brown rice pasta are great additions…Make in marinara or opt for pesto to add in a different flavor, like basil…If you want to opt for less carbs, serve over sautéed spinach or kale. Adding greens is always great for extra fiber, digestion and to keep you fuller for longer!
MANGIA & ENJOY!
---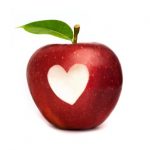 Want to give the gift of health this Valentine's Day? 
Chocolate is so yesterday— Show your LOVE by gifting a Private 1:1 Health Coaching Session ...There's no better way to show your true love for someone than helping them make healthier choices to become the best version of themselves. 
Package includes a private 60-minute consultation, followed by customized notes, recommendations and handouts specific to their needs and goals. Should they want to continue with a coaching plan, they will also receive a discount on regularly priced services.
SUMMER BODIES ARE MADE IN THE WINTER- Now is the perfect time to kick-start those goals!
XOX,
Coach Aly