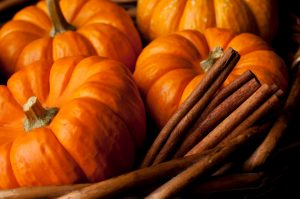 I LOVE THE FALL!..Especially the smell of the crisp air and all things PUMPKIN & SPICE.
To kick off the season, I wanted to share with you one of my favorite healthy pumpkin bread recipes… When baking, the aroma will fill your home with pure HAPPINESS!
This recipe is also so moist, fluffy and delicious – no one will ever guess it's naturally sweetened and made 100% GLUTEN-FREE… A healthy spin on a classic Fall favorite!
Perfect for breakfast on-the-go, a pre-workout boost or a healthy sweet option for the kids after school.
INGREDIENTS
⅓ cup melted coconut oil or extra-virgin olive oil*
½ cup honey or maple syrup
2 eggs
1 cup pumpkin purée
¼ cup milk of choice or water
1 ½ teaspoons pumpkin spice blend (or ½ teaspoon cinnamon, ½ teaspoon ground ginger,
¼ teaspoon ground nutmeg, and ¼ teaspoon allspice or cloves)
1 teaspoon baking soda
1 teaspoon vanilla extract
½ teaspoon salt
1 ¾ cups gluten-free flour (Bob's Red Mill's all-purpose gluten-free flour is my pick- You can find in most supermarkets, all-natural food stores or online)
Optional: ½ cup mix-ins like chopped walnuts or pecans, chocolate chips, raisins, or chopped dried fruit
Pinch of ground cinnamon, for sprinkling on top
INSTRUCTIONS
Preheat oven to 350 degrees Fahrenheit  and grease a 9×5-inch loaf pan.
In a large bowl, beat the oil and honey together together with a whisk. Add the eggs and whisk until blended. (If your coconut oil solidifies on contact with cold ingredients, let the bowl rest in a warm place for a few minutes)
Add the pumpkin purée, milk, pumpkin spice, baking soda, vanilla and salt, and whisk to blend. Lastly, switch to a big spoon and stir in the flour, just until combined. Some lumps are ok! If you're adding any additional mix-ins, gently fold them in now.
Pour the batter into your greased loaf pan and sprinkle lightly with cinnamon. If you'd like a pretty swirled effect, run the tip of a knife across the batter in a zig-zag pattern.
Bake for 55 to 60 minutes, or until a toothpick inserted into the center comes out clean (typically, if no mix-ins are added, bread is done at 55 minutes; if you have added mix-ins, it needs closer to 60 minutes).
Let the bread cool in the loaf pan for 10 minutes, then transfer it to a wire rack to cool for 20 minutes before slicing.
ENJOY!
PS- For alternative grab-and-go option or for kids snack- Make with different pan/tray for individual muffins!
PPS- I'm gonna get REAL with Y'all for a minute…No time to bake but still want these yummy results??? CLICK HERE:GLUTEN-FREE PUMPKIN BREAD & MUFFIN BAKING MIX <— My other recommendation – Just as good 😉