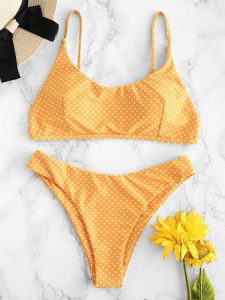 With warm weather months approaching, many of you are wanting to lose weight to feel great and swimsuit-ready in time for Summer…
Due to recent fad diets and trends, many of you think you need to omit ALL carbs and "treats" from your diet… This is FALSE!
While stripping refined starches (like white bread, pastas, cakes, and cookies) can be helpful in losing weight, omitting ALL CARBS out of your diet is not necessary.
Healthy, gluten-free options, like brown rice, quinoa, sweet potatoes and oatmeal are all Balanced Beauty APPROVED… In fact, these items provide you with fiber to keep you fuller for longer, which actually HELPS YOU stay on-track with your goals to lose weight!
These carbs are all slow digesting, will not spike your insulin levels (which causes weight-gain) and will even help your muscles recover from your workouts.
If you want to LOSE WEIGHT and KEEP IT OFF for good, a BALANCED approach to your meal and snack choices is key. Instead of depriving yourself of the foods you love, opt for substitutes and try healthier cooking alternatives.
Extreme, restrictive diets may work short-term or for temporary fixes, but if you want to feel great, enjoy your meals and create a healthy sustainable lifestyle, I encourage you to think HEALTHY, HAPPY and LONG-TERM.
For example, let's look at 3 CLIENT FAVORITE FOODS: PIZZA,  PASTA & ICE CREAM….
PIZZA:
What you're eating NOW: White crust, cheese pizza with pepperoni
Healthier alternative: Gluten-Free crust, cheese pizza; Using Cauliflower, Rice, Potato etc for crust

Even Healthier alternative

: Veggie crust, cheese pizza; Baked at home using Eggplant or Portobello Mushroom as a crust– Topping with low-fat cheese, other veggies and even a healthy protein like grilled chicken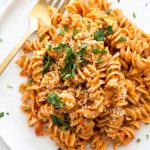 PASTA:
What you're eating NOW: White flour pasta
Healthier alternative: Gluten-Free pasta, made from chickpea, brown rice, or lentils

Even Healthier alternative

: Spaghetti Squash or Zucchini noodles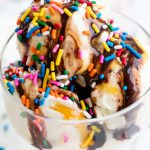 ICE CREAM:
What you're eating NOW: Popular brands Ben & Jerrys, Haagen-Dazs or Edys
Healthier alternative: Halo Top, Breyer's All Natural Vanilla, Arctic Zero

Even Healthier alternative

: Frozen banana, Greek Yogurt, Frozen Yogurt with Cashew Milk
In The Balanced Beauty world, it's key to realize you can still have the flavors and textures you love and enjoy, but modified to make healthier. These small changes made to your diet over time WILL add-up …and YES- YOU CAN eat "Pizza, Pasta and Ice Cream" and STILL lose weight!
---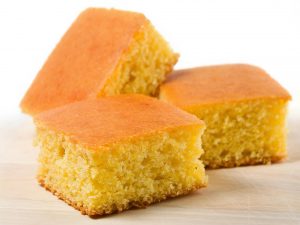 Today, I am sharing with you one of my favorite bread alternatives, CORN BREAD.
Corn meal, the basic ingredient of corn bread, is a whole grain. Whole-grain foods provide needed fiber for the diet, which not only helps to regulate bowel movements and to keep you regular, but also to absorb cholesterol and lower blood sugars as they move through the digestive system.
This is a great option because it has a touch of sweetness that can be a great breakfast substitute (for your typical muffins, danishes, bagels or pastries) or as a dessert substitute, since it has a touch of sweetness and cake-like texture.
---
#CrazyForCornBread RECIPE
INGREDIENTS

:
1 1/4 cup of gluten-free all purpose flour
1 cup of yellow corn meal
2/3 cup of sugar (or sugar substitute like 4 tablespoons honey, maple syrup or coconut sugar)
1 teaspoon salt
3 1/2 teaspoons of baking powder
1 teaspoon baking soda
1 egg
1 cup almond milk
1/3 cup olive oil
*If you do not want to or have the time to make from scratch, STONEWALL KITCHEN makes an excellent Gluten-Free product… I have tried many and I like this one best.
DIRECTIONS

:
Preheat oven to 400 degrees. In a large bowl combine ingredients.
Pour batter into greased pan (I use Olive Oil or Coconut Oil Spray) and cook for about 20-25 minutes or until golden brown.
Serve plain or with yogurt and berries for extra touch of sweetness and some added protein
---
For a touch of sweetness, add berries to your batter or make in cupcake tins- for corn muffins. . .
Same healthy taste, with an alternative/more portable bite.
This also makes a great, portion-sized, option on-the-go or for your kids lunches/after-school snacks!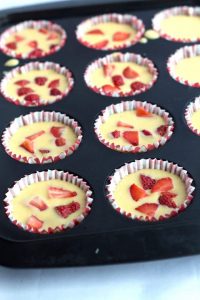 The Balanced Beauty recipes are crafted to help you stay on-track with your health and weight-loss goals, while still enjoying the foods you love… Healthier options and substitutes provided will help you make easier lifestyle transitions, in a way you do not feel deprived– yet still give you the results you desire, that can last for the long-term!
Have a favorite family recipe you would like to make healthier? Email Info@TheBalancedBeauty.com and your recipe just may be featured!
+ Follow @1BalancedBeauty for daily healthy inspiration and tips to stay on-track!