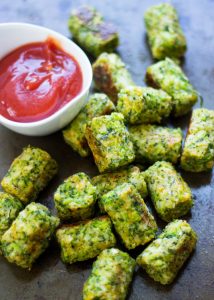 May 1st,  we kicked off the "30-Day Slim-Down, Balanced Beauty-Style!"
…This means eating healthier to get in shape for the summer, but it doesn't mean depriving ourselves of the foods we love! Instead, we make swaps and smarter choices when it comes to our snacks and meals.
I found this AMAZING healthy-inspo from GimmeDelicious.com but switched it up to make the recipe GLUTEN-FREE! These baked tots have the consistency and flavor of your beloved french fries, without the guilt!
Broccoli is one of the BEST veggies to eat, as it is LOADED with fiber, vitamins, and is known as being one of the TOP 10 HEALTHIEST FOODS ON THE PLANET!!! I recommend getting this veggie into your diet in a fun way, by making these tots for a healthy snack, appetizer or side dish.
Not to mention- this is also a fantastic way to get your kiddos to eat their broccoli!
---
Prep time: 15 mins Cook time: 20 mins Total time: 35 mins

INGREDIENTS

:
2 cups or 12 ounces uncooked or frozen broccoli
1 large egg
1/4 cup diced yellow onion
1/3 cup cheddar cheese
2/3 cup gluten-free italian breadcrumbs
2 tablespoons parsley ( or cilantro, rosemary)
½ teaspoon salt*
½ teaspoon pepper
*Note: Readers have noted that 1 teaspoon is too much salt. If you are using table salt, only use ½ tsp or to taste!
INSTRUCTIONS

:
Preheat the oven to 400°F. Grease a baking sheet with a thin layer of oil or line with parchment paper and set aside.

Blanch the broccoli in boiling water for 1 minute then remove and shock with cold tap water to stop the cooking process. Drain well.

Chop broccoli finely and mix throughly with the egg, onions, cheddar, breadcrumbs, and seasoning. Scoop about 1.5 tablespoons of mix using a ice-cream scoop or your hands and gently press between your hands into a firm ball then shape into a tater-tot shape. It helps to wash your hands after every few tots to keep them from sticking onto your hands. Next, Place on your prepared baking sheet.
Bake until golden brown and crispy, 18-24 minutes, turning half way. Remove from the oven and enjoy hot with ketchup, sriracha, ranch dressing, or your favorite dipping sauce!
      SOOO GOOD

–

 ENJOY

!
---
Follow @1BalancedBeauty & join in the 30 Day Slim-Down Challenge!
There you will find no-nonsense health tips, recipes and motivation to get in shape for the warm-weather months ahead.
Special Summer Slim-Down Package = 20 day intensive $400  
For a more personal and customized plan, Email: Info@TheBalancedBeauty.com – Taking on a limited number of exclusive clients for the month of May.
Just $20/day 
DAILY Email Tips, customized to you and your goals
DAILY Access to Coach Aly for any questions/concerns
AKA: I am your Go-To-Guru-Bestie 24-7 for 20 days…everything you need to stay on-track and feel super motivated to make changes!!! I GOT YOU!
4 Call check-ins to keep progress and momentum going strong for the month!
Holistic Plan Includes, Not limited to: Nutrition, Fitness, Spirituality, Relationships – Focus on whatever you need to ignite your inner-light and bring out your best YOU!
This is a no-nonsense plan to keep you accountable to your goals!… Your plan will be specifically designed to give you the quickest results, in the shortest amount of time, using the healthiest and proven fat-buring and accelerating techniques.
Set your healthy foundation NOW to enjoy all summer long!
With Love,
Coach Aly
www.TheBalancedBeauty.com
@1BalancedBeauty