Happy Weekend Beauties!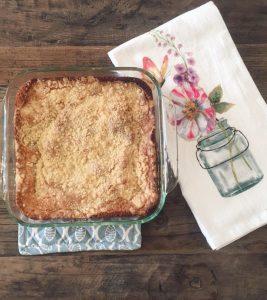 Now that the crisper weather is here, it is time for another seasonal shift…In the foods we eat, the activities that fill our schedules and the way we approach our diets! Baking can be a great activity to reduce stress, spend time with loved ones and fill your home with aromas that boost mood and promote relaxation.
September, aka: "back-to-school" time, always reminds me of when I was young and spent many week days and weekends baking. I always loved finding recipes and tweaking them to make them my own. Today, I still experiment with recipes- making them gluten-free and even including some health benefits!
I typically tell my clients EAT CLEAN during the week and allow yourself a little wiggle-room on the weekends (Balance Beauties- Balance)… And when wanting a sweet-treat, make it from scratch! Use ALL-NATURAL ingredients and take time to make the recipe your own. When you cook or bake and put love into your food, you truly appreciate and savor each bite, more than you would buying it out of the store. You are also able to control ingredients and portions.
BALANCED BEAUTY TIPS FOR BAKING

:
Swap ingredients where possible! For example: Use Olive or Coconut oil instead of vegetable/canola/soybean, Applesauce or crushed fruit, instead of sugar, Gluten-Free Flour instead of white starchy flour, Organic ingredients, instead of processed, Almond or skim milk instead of Whole or cream, etc.
Select recipes that are fruit-based, rather than chocolate
Sneak in spices that can be metabolism boosting. For example: Cinnamon spice boosts metabolism and also suppresses appetite. Sprinkling some on-top of a baked good can help you stick to just eating a single serving.
Avoid anything "fake" like pre-made crusts, food coloring, or boxed mixes. When baking with ingredients from the earth, your body is better able to process and is much healthier for you and your family!
Play feel-good music while baking! Make it a fun activity… Cooking or baking can be a therapeutic, stress-relieving activity…Including the kids or your partner can also be a great way to bond and have some fun together in the kitchen.
Getting lean and eating clean doesn't mean sacrificing sweets or desserts!
Take time to make baking a fun activity, be smart about ingredients, enjoy and then get right back on-track with those typical healthy choices… Surprisingly, incorporating sweets in this healthy way can actually help you stick to your diet and LOSE WEIGHT in the long-term. Trust me when I say, EXTREMES will always back-fire on you and BALANCE IS EVERYTHING!
INGREDIENTS

:
For the topping

:
1/4 cup gluten-free flour
1/4 cup sugar
2 tablespoons unsalted butter, chilled
For the crumble

:
1 teaspoon vanilla extract
2 eggs
1 1/4 cups sugar
2 1/4 cups gluten-free flour
1 1/2 teaspoons baking powder
1/2 teaspoon sea salt
2 tablespoons brandy* (optional- but it's the weekend–live it up)
2 tablespoons heavy cream
8 tablespoons butter
1 pound mixed berries (I use blackberries & strawberries)
1 greased baking pan or individual ramekins
DIRECTIONS

:
To make the topping, combine flour, sugar, butter and crumble together with your fingers until it resembles course meal. Place in the refrigerator for 20 minutes (while you are making crumble).

Preheat oven to 375 degrees

Coat baking pan or ramekins in olive or coconut oil (to avoid sticking/ PAM is OK)
Gently heat butter and cream in a small saucepan until the butter melts. Remove from heat. Add vanilla extract and brandy.
In a small mixing bowl, whisk eggs with sugar until eggs lighten in color. Add butter and cream mixture to the eggs and sugar.
In a medium bowl, mix together flour, baking powder, and salt. Slowly pour the wet ingredients into dry ingredients, whisking together to combine. Your batter should be a little thicker than pancake batter.

Note

: When using gluten-free mix, you may need to add more liquid. Add in cream to correct, until you get the pancake-like consistency.

Fold in your berries (aka: antioxidants)!
Distribute the batter evenly in pan or individual ramekins. Then distribute your crumble topping.
Place in oven for 45 minutes or until the top is golden brown and substantially risen.

Remove. Let cool..and ENJOY!
…And if you're curious –> WHY BUTTER IS GOOD FOR YOU IN MODERATE AMOUNTS 
Have a fab weekend & Happy September!