When eating clean and trying to lose weight, it is important to eat adequate amounts of protein at each meal. Grilled chicken is often a go-to protein source because it is affordable and easy to make; But how many of you are tired of eating the same boring chicken over and over?
Often times we go to restaurants, and chicken dishes are delicious but are breaded, fried and covered in sauces that take that healthy protein and make it just as bad for you as a cheeseburger or slice of pizza!
I am Italian and personally love Chicken Francese…it's creamy, lemony,  rich, and a comfort-food dish during the colder months. But, traditional recipes contain large amounts of butter, breadcrumbs, white flour, salt, oil, eggs, and heavy cream (…I feel bloated just writing that)!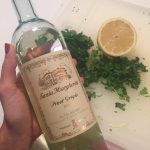 That's why I decided to test out a dairy and gluten-free version of this favorite dish! This Balanced Beauty recipe tastes just as delicious and satisfying as the original but will keep you on-track with feeling and looking your best…And will help change it up from that same old, boring grilled chicken.
Note: This recipe takes a little more time but is worth it! Its a great option to break away from the typical grilled chicken during the week and to make over the weekend when cooking-in. As you will see, it calls for wine as one of the ingredients…Feel free to pour yourself a little glass, to have some fun and unwind while cooking your delicious meal!

INGREDIENTS:
• 4 Organic skinless, boneless, chicken breasts, pounded thin (about ¼" thick)
• Brown rice or Almond flour
• 2 Large eggs, whisked in a bowl
• ½ Cup of unsweetened almond milk
• 2 Small or one large garlic clove, minced
• 3 Tablespoons of non-dairy butter (I like Earth's Balance) or cold-pressed extra virgin coconut oil if you want to add some sweetness to counteract the sour of the lemon
• 1/2 Cup high quality dry white wine (I used pinot grigio)
• 1 Cup vegetable stock or broth
• 1/2 Lemon, juiced
• 4 to 6 Slices of lemon to garnish
• 1/4 Cup chopped fresh Italian parsley
• Celtic sea salt and freshly ground black to taste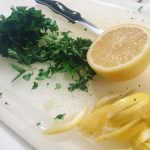 *Have 3 bowls: 1 for almond milk, 1 for eggs, 1 for rice flour
*Have 2 pans: 1 for sauce, 1 for chicken
DIRECTIONS:
First, pound out chicken to flatten, and soak in the almond milk (do this first so you can prep the rest of the ingredients and heat up your pan). The milk will make the chicken breasts super moist and tender!
Whisk your eggs in a bowl and pour enough brown rie flour in another bowl to cover all of your chicken pieces (optional: season the flour with salt and pepper).
Start melting half of the non-dairy butter or coconut oil in the pan and spread it around until the pan is coated.
Take your chicken pieces out of the almond milk and coat them in the brown rice flour. Shake off the excess and then coat them in the whisked eggs and put them in the pan.
Cook each side for only about 2 minutes each over a medium flame until they turn golden, then remove them from the pan, cover them, and set them aside.
SAUCE: Start sautéing the garlic and your lemon slices over a medium heat until the lemon slices are softened and the garlic is golden. The aroma is amazing!
Add the wine, vegetable stock, and lemon juice. Bring to a boil then simmer for about 5 minutes. Then add the rest of your butter and simmer until the butter is melted. Add a dash more of brown rice flour if the sauce seems too liquify to thicken (remember it will thicken upon cooling, and the chicken will absorb some).
Add half of your parsley and stir into the sauce…save the rest for garnishing.
Return the chicken to the pan and simmer just long enough to reheat the chicken…(too long and it will get soggy).
Plate your chicken, pour some sauce over and garnish more parsley, and with the lemon slices. Add more salt and pepper to taste
Serve over gluten-free pasta or veggies!
This dish is super satisfying, full of flavor but totally Balanced Beauty approved… Who knew eating healthy could taste this good!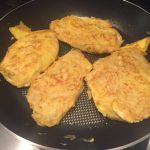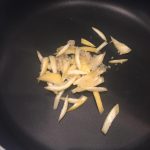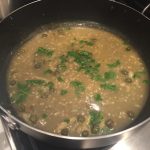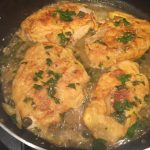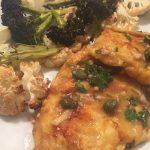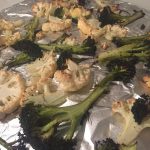 Follow @1BalancedBeauty on Instagram!
…When I am cooking these recipes, I often post to the "Story" feature…This helps you to check-out the "making of" process so its easier when you try it out yourself!
P.S. I love to eat but don't love to cook… If I can do this, so can you!
All Balanced Beauty recipes are designed to be healthy, delicious and easy to make. If you try this recipe or any others, drop me a note or send pics! Would LOVE to see your delicious creations! xo