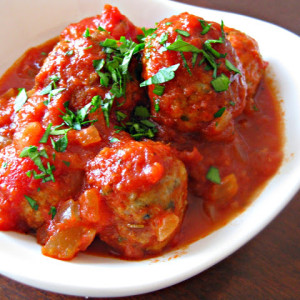 This Italian girl LOVES her meatballs but wants them full of flavor and without the FAT!
Below is a healthy variation of my Italian Mama's old school recipe…and even she approves. Bada bing- Bada boom, delicious and nutritious!
INGREDIENTS:
1 Lb. 99% Lean, All Natural Ground Turkey Meat
2 Eggs, lightly beaten
1 Small onion, finely chopped
2 Garlic cloves, minced
6-10 Lrg. Basil leaves, chopped
1/4 Cup Parsely, chopped
1/4 Cup Mushrooms, finely chopped
1/2 Cup Carrot, finely grated
2 Tsp. Oregano leaves, chopped
1 Tsp. Sea salt
1 Tsp. Ground black pepper
1/4 Cup Parmesan cheese, freshly grated (plus more for serving)
3 Tbsp. Olive oil
1/2 cup GLUTEN FREE bread crumbs
2 Jars Rao's Homemade Marinara (all natural, premium quality, free of gluten, cholesterol, artificial flavors, imported Italian tomatoes and just delicious)
DIRECTIONS: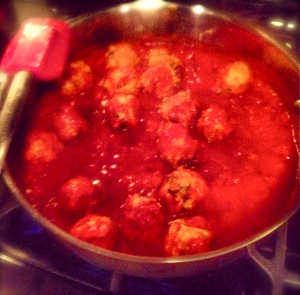 On one stovetop burner, heat pot of water to bring to a boil
On another burner, heat 2 jars of Rao's Homemade Marinara sauce
Combine all ingredients with ground turkey in a large mixing bowl
Once water has boiled, lower, and roll turkey balls (1 1/2 inch) and drop into boiling water (depending on the size of the pot, you can drop 5-10 at a time)
Leave in pot until balls become white in color and rise to the top of the water (as meat cooks, scoop and discard any fat that floats to the top)
Gently scoop, one turkey ball at a time, and place into the Rao's Homemade Marinara sauce
Once all turkey balls are placed in the Marinara, cover pot with a lid, lower the heat and let summer for 45 minutes- 1 hour (turkey balls will continue to cook through)*
Serve over GLUTEN FREE pasta or BROWN RICE/ Add additional parmesan, hot pepper flakes and/or parsley for garnish, if desired
Mangiare e divertirsi!…Translation: EAT and ENJOY!!!
HEALTHY FUN FACT: Boiling is a healthy cooking method used in this recipe to create tender meat that retains nutrients, melts in your mouth and removes the FAT!
*Note– Time left in sauce at your discretion. The longer you leave in the sauce, the more enhanced the flavors will be. Meatballs can be removed from heat to cool then placed in the refrigerator to sit in sauce overnight and re-heated next day!