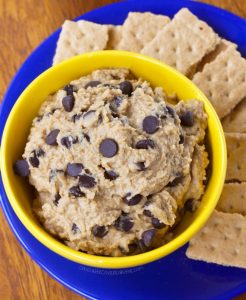 I am constantly looking to make health/gluten-free versions of favorite foods…
And who isn't obsessed with warm, gooey chocolate chip cookies?! …If you're like me though, most of the batter never makes it into the oven because let's face it– the cookie dough is the best part!
That's why I am SUPER excited to share this SUPER BOWL SNACK, that will be a total crowd pleaser. It's delicious but gluten-free, vegan, guilt-free and it may just be the best recipe I have ever discovered, which is why I HAD to share with you all for one of the best FOOD DAYS of the year, GAME DAY!
Healthy Cookie Dough (Chickpea) Dip
The recipe has been featured by Cooking Light, Bon Appetit, CNN, Shape, Glamour, The Philadelphia Inquirer, and The Huffington Post; and it has inspired bloggers everywhere to post their own versions of the now-famous dip on their blogs…I am sticking to the original made by, "Chocolate Covered Katie." Feel free to add in ingredients to make your own versions, but start with this classic and you have a WINNING treat- Totally BALANCED BEAUTY approved!
Other than this tasting amazing, TOTAL (NON-COOK) TIME = 10 MINUTES!
---
Ingredients
1 1/2 cups chickpeas or white beans (1 can, drained and rinsed very well)
1/8 tsp plus 1/16 tsp salt
just over 1/8 tsp baking soda
2 tsp pure vanilla extract
1/4 cup nut butter of choice (If you use peanut butter, it will have a slight PB-cookie dough taste/ I prefer almond butter)
Up to 1/4 cup milk of choice, only if needed (I recommend almond milk)
Sweetener of choice (see notes below)*
1/3 cup chocolate chips or sugar-free chocolate chips
2-3 tbsp oats or flaxmeal
Sweetener Notes:Originally recipe used 2/3 cup brown sugar. Liquid sweeteners (agave, maple, honey, evaporated cane juice etc.) were listed as fine options as well. Some people use just 3 tbsp for the whole recipe– When I made this, I used coconut sugar!
INSTRUCTIONS- 1 STEP!
Add all ingredients (except for chocolate chips) into a good food processor and process until very smooth… Then mix the chocolate chips at the end!
Some have had success with a blender, but I did not. Try that at your own risk and know the results will be better in a high-quality food processor, such as a Cusinart. If made correctly and blended long enough, this should have the exact same texture of real cookie dough!
Other optional ingredients:
marshmallows, nuts, raisins, coconut flakes– And/Or gluten-free graham crackers or cookies to dip!
---
Wishing you a happy, healthy SUPER BOWL WEEKEND- Enjoy!
+ Email: Info@TheBalancedBeauty.com if there is a favorite food you want a healthy alternative recipe for! …If you have discovered or created a recipe of your own, send recipes and photos- I LOVE TO FEATURE your Balanced Beauty's creations!!!