Happy Friday Beauties!
In honor of the weekend, today's Summer Slim-Down Recipe is a SWEET TREAT! A creamy, tangy, and refreshing cheesecake-like dessert featured from fellow Health Coach and fabulous Balanced Beauty, Tanya from: Better Raw! 
This is a light and refreshing dessert, made with all-natural, raw food ingredients. The perfect ending to any meal and a great option to serve at a BBQ or party this season, guilt-free!
Raw-Food Key Lime Pie!
Equipment:
Removable bottom 10 inch tart pan
Blender
Food Processor
*Optional: Dehydrator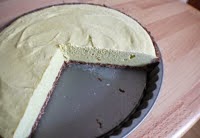 For the Crust:
– 1 Cup Walnuts, soaked 2-8 hours
– 1 Cup desiccated coconut
– 2 Cups Dates, soaked 2 hours
– 1/3 Cup Cacao powder
– Pinch salt
For the Filling:
1 Cup Cashews, soaked 2-8 hours
1 Cup lime juice (about 5 large or 8 small limes)
2 Avocados
1 medium Mango
1/3 Cup Coconut Butter, gently melted
1/3 Cup Agave
Directions:
Start with making the crust by processing the walnuts with an S Blade of your food processor
Squeeze the water out of the dates, add them to the food processor and pulse
When the dates appear roughly chopped, add the remaining crust ingredients and process well
Scoop the entire mixture into a pie pan and spread it evenly over the bottom and the sides with your hands. Do not rush this process
Start preparing the filling by blending soaked cashews and lime juice until smooth
Add the remaining filling ingredients and blend on high.
Use a tamper for a powerful blender or pulse for standard blender. Pour the mixture into the crusted mould and lightly wiggle the pan from side to side to flatten the pie
Transfer to a freezer
Best served about 4 hours after freezing or if left to freeze overnight or longer, simply thaw for an hour in the fridge to soften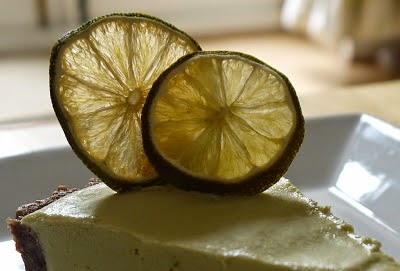 For lime garnish:
Thinly slice 2 limes and dehydrate for 4 hours at 115degrees F
Serve as decoration and then add to teas!
Spotlight on Balanced Beauty Tanya!
Tanya Maher is a certified health coach, chef, author, Reiki do Satori master healer, and a renowned raw food and detox expert. Born in Russia, raised in New Zealand and now living in London, you will often find her at myhotel Chelsea's brand new raw food cafe and superfood cocktail bar, Tanya's. She is the founder of Better Raw, co-founder of Tanya's Cafe, creator of the Amazon No1 Bestselling DVD 'Raw Food 101′, and author of numerous eBooks, as well as a FREE beginner's guide to living foods, One Day Raw, available on www.BetterRaw.com.
Keep following the Blog and @1BalancedBeauty for healthy, delicious SUMMER SLIM-DOWN RECIPES throughout the season!
With Love,
Coach Aly
* The Summer Slim-Down Series was designed by The Balanced Beauty to give you alternative recipes to the foods you love and crave!  Swapping ingredients, sticking to portion sizes and preparing meal/snack options in advance will help you slim down for the warm-weather months… You will be bikini-ready, without feeling deprived!
Insta/Twitter: @1BalancedBeauty
Facebook.com/TheBalancedBeauty
www.TheBalancedBeauty.com
P.S!!! The Balanced Beauty is gearing up for the SUMMER too! New website, with fabulous new look and feel, COMING SOON!