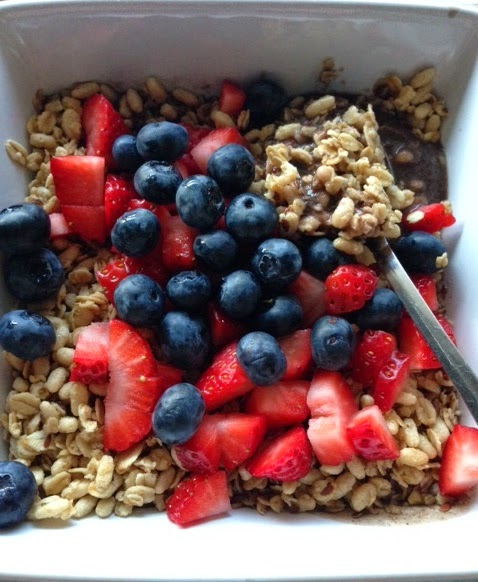 Today's Summer Slim-Down Recipe comes from fabulous friend, Beauty/Wellness Expert and Journalist, Grace Gold!
This Acai Bowl makes for an energizing breakfast or delicious afternoon / evening snack, with incredible superfood and antioxidant value!
Sliced strawberries, diced mangos, and blueberries work especially well as fruit toppings.
Balanced Beauty tip: In the off-season, purchase fruit frozen, so that you always have them on hand… Feel free to experiment with your favorite kinds! Add a frozen banana for a thicker, more smoothie-like base.
Grace's Amazing Açai Bowl
Ingredients:
– 1 Sambazon unsweetened pure açai smoothie pack (frozen)*
– 1/2 cup unsweetened almond milk
– 1 small ripe banana
– Hemp/ Gluten-Free granola
– Fruit of choice to top*Check website to purchase/find Sambazon packs near you!
Directions: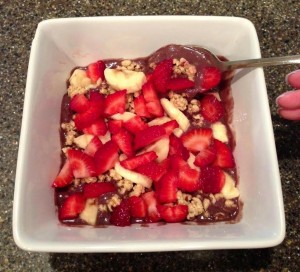 – Blend the açai pack, almond milk and banana together. (Defrost the açai for a bit first so that it blends more easily.)
– Pour into bowl.
– Top with granola and your choice of fruit!
Balanced Beauty Grace Gold is a multimedia beauty and wellness journalist, who provides expertise and reporting on-air, in print and online. Below she demonstrates the hottest beauty products on the TODAY show with Kathie Lee and Hoda!
Keep following the Blog and @1BalancedBeauty for healthy, delicious SUMMER SLIM-DOWN RECIPES. Featuring the hottest tips from leading Health Coaches, Beauty Experts and industry professionals to help YOU feel your most fabulous!!!
Love,
Coach Aly
* The Summer Slim-Down Series was designed by The Balanced Beauty to give you alternative recipes to the foods you love and crave!  Swapping ingredients, sticking to portion sizes and preparing meal/snack options in advance will help you slim down for the warm-weather months… You will be bikini-ready, without feeling deprived!
Insta/Twitter: @1BalancedBeauty
Facebook.com/TheBalancedBeauty
www.TheBalancedBeauty.com