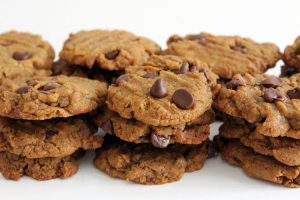 If you are a follower of The Balanced Beauty and reading this Blog, I already know you are someone who likely is "in" on all things amazing, and can likely agree that one of the BEST sweet combos on the planet is: Peanut Butter and Chocolate.
I mean, come on!… Does it get any better than that creamy, sweet, and salty combo in one?!… It's THE PERFECT BALANCE!
Turn it into a hot ooey-gooey cookie and it's NEXT LEVEL INCREDIBLE.
These Peanut Butter & Chocolate Chip Cookies are the perfect Christmas Cookies to leave out for Santa, not just because they are mouthwateringly delicious — but because we all know Santa can afford to lose a couple…And with all the houses he has to visit, I'm sure he wouldn't mind a cookie that's lighter on the waistline.
This Balanced Beauty cookie is made with all-natural ingredients and ZERO FLOUR. It's Gluten-Free but also completely Flour-Free/Grain-Free, making it a lower carb option and one that is going to taste a little lighter than the rest of those other Christmas Cookies out there. Don't believe me, just give them a try!!! I KNOW you will love them!!!
PS- TOTAL TIME = 15 min!
Throw ingredients in a bowl and bake for 10 minutes.
SUPER SIMPLE!
---

INGREDIENTS

:
1 Cup Creamy Peanut Butter
1/2 Cup Coconut Sugar
1/2 Cup Packed Light Brown Sugar
1/2 Cup Semi-Sweet Chocolate Chips
1 Large Egg, Beaten
1 Teaspoon, Vanilla Extract
DIRECTIONS

:
Position two oven racks in the center of the oven and preheat to 350 degrees
Combine all the ingredients in a bowl and stir with a wooden spoon, until smooth
Divide the dough into 24 portions, about 1 heaping tablespoon each. Roll between your hands into a ball and place on UNGREASED cookies sheets, about 1 inch a part.
Using a fork, press on the dough in two directions to form a "crosshatch" pattern (see photos for what this looks like).
Bake the cookies, rotating the sheets between the oven racks and turning them back to front mid-way, until the cookies are puffed and lightly golden. ABOUT 10 MINUTES.
Remove the baking sheets from the oven and let the cookies cool on sheets.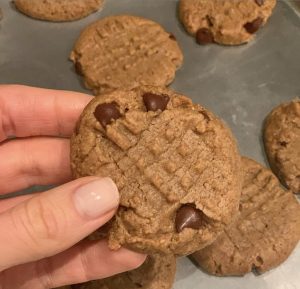 Note: Do not over-cook or they will become too chewy*
Wishing you a HAPPY HOLIDAY week-
Like these cookies, I hope it's the perfect BALANCE of healthy, sweet and comes together with lots of LOVE!!!!