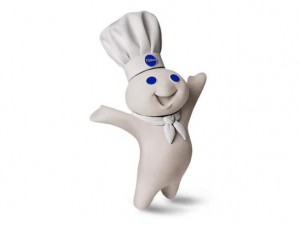 This past week, I was on the set of a movie.  This Director likes to use "real people" for scenes of his movies, and since this was a very special comedic scene, he used real NYC Friars Club Members to play along with the other actors…. I had the incredible pleasure of sitting next to a lovely elderly gentleman Friar (85 years young) and during the 12-hour day talked about life…
I learned that back in the day, he was an Art Director for a major marketing company. I then asked what kind of art? He replied by asking,
"Do you know who The Pillsbury Doughboy is?"
"Of course," I said!
He then casually replied, "I invented him."
                                              (Me in this moment = MIND BLOWN!!!)
"I was assigned to the Pillsbury account, which was failing at the time, and as a pudgy/fat young man created him after years of researching the brand and coming up with the character idea."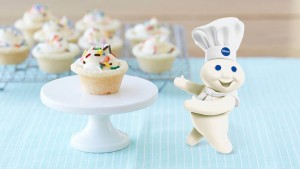 He saved the Pillsbury account with the art creation of the Doughboy! He then went on to tell me how he designed the creative for Sweet & Lo, Ban deodorant, among several other widely recognized American staple products over the years…
"WOW! I'm sitting next to an American LEGEND!!!…" I then asked if he gets royalties every time the Doughboy is used in creative (I mean, how could I not) and he said, No. He said he received none of the credit for anything he worked on because he was just an employee for the company and they take the credit…. That's just how it works.
He then went on to tell me how many people have even tried to steal credit, claiming they were the originators for his creations and ideas. He said he had all original figurines, molds and draft versions to prove the opposite, especially for the infamous, adorable Doughboy.
I looked at him and felt sorry that his genius had gone unrecognized (and no royalties- major boo). He was so warm, genuine and I saw that spark of pride in his eye as he talked about his career over the years. He looked at me and said:
 "In life, you will do things and other people will judge, take credit, steal your originality or ideas…you may never receive credit, when credit is due. But it's important to stay grounded and recognize what's really important. Do your best. Give your best. Don't expect anything. And make friends, many friends, along the way… That's what it's all about."
This really resonated with me. It reminded me of the simple lesson that it's important to take a step back and stop seeking others approval or not recognizing the true joy of the creation process…. If you are your best, giving your best and taking action towards your endeavors, you will find ultimate happiness and success if YOU are proud of all that you do.
This is the mindset of "The Greatest Generation!"
The term "The Greatest Generation" is the title of Tom Brokaw's 1998 book profiling members of this generation. In the book, Brokaw wrote, "it is, I believe, the greatest generation any society has ever produced." He argued that these men and women fought not for fame and recognition, but because it was the "right thing to do."
Right now, I want you to get into this mindset and think of 3 things you are working on or striving for. Give yourself some credit!!!!! Feel good about your progress or your achievements.
Positivity attracts more positivity. Stay in the creative, positive flow and keep giving the world your best. If you live this way, I guarantee you too will be the happiest, sweetest 85 year old at peace and loving life!!!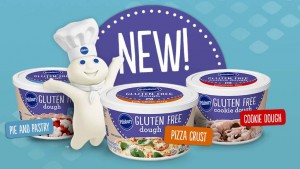 I LOVE that Pillsbury now makes Gluten Free cookies and dough products!
I have tried them and think they taste great…Look for them in your local grocery store, where you find other pre-made dough items.
Balanced beauty approved for a sweet treat!