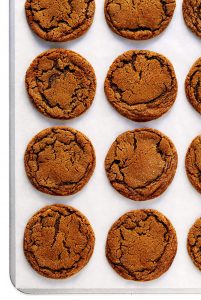 It's always nice to end a meal with something sweet!
…But for some of us (yes, I include myself in this category), once we start with the sweets, it can be hard to stop!…  One cookie, leads to another…which just might lead to ice cream and then something salty to counteract the sweet, and before you know it you're off the deep-end in the land of junk food and desserts.
What's a gal to do?…
MAKE MY GINGER SPICE COOKIES!!!!
These cookies are sweet but made with tons of spices that really help to curb your appetite. You can eat one and feel totally satisfied. The best part is, the ginger and spices actually help to aid digestion. It's the perfect cookie to end a meal!
---
INGREDIENTS:
2 1/2 Cups Gluten-Free or PALEO all purpose flour ( I use PALEO found at Whole Foods)
1/2 tsp. ground cloves
1 tsp ground ginger
1 tsp cinnamon
2 tsp baking SODA (not powder. soda…yes, I made that mistake on my first batch)
1/2 tsp salt
1 1/2 sticks unsalted butter, softened
1 cup sugar (I used coconut sugar)
1/4 cup dark molasses
1 large egg
3 1/2 Cups of GINGER ( I used The Ginger People Crystallized Ginger Chips– found at Whole Foods)
1/2 cup coarse or raw sugar
DIRECTIONS: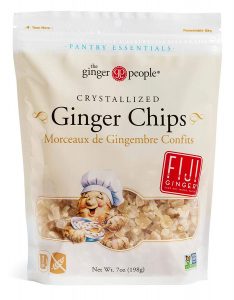 Preheat oven 375 degrees
Sift dry ingredients together in a bowl. Set aside.
In a large bowl, mix butter and sugar until light and creamy. Stir in molasses and egg.
Add dry ingredients to the wet mixture. Mix well and add in the ginger chips.
For best results, chill the dough for one-hour.
Place small 1-inch balls on a parchment-lined baking sheet and bake 8-10 minutes or until the edges start to set (with the paleo flour, cookies may take longer to crisp up).
Cool on baking sheet and enjoy!
Texture will be firm but chewy 🙂
---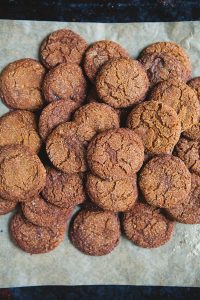 Balanced Beauty Dessert & Cookie Recipes are crafted for you to indulge and enjoy your favorite classic dessert and cookie tastes, with a healthier spin. This cookie is "approved" because it is not made with white starches and the spices/ginger provides some health benefits!
The Balanced Beauty diet is about BALANCE…and indulging in a way that still keeps you on-track with your healthy weight-loss goals.
If really watching your waistline, opt for sugar substitutes like Swerve Sweetener, which is an all-natural sugar substitute made from fruits and veggies, no artificial ingredients and is "tummy friendly."
Wishing you a Holiday season filled with all things sweet and wonderful! ENJOY!! Xo