Today, I am sharing one of my FAVORITE FALL FOOD recipes from friends at "EatingWell."  This is the perfect flavorful combo for lunch, dinner or for Sunday Funday football/tailgating…(The guys won't even know its healthy)!
Full of spice and flavor you can serve alone or with your favorite salsa, hot sauce or tortilla chips.
Super simple to make and delicious to devour!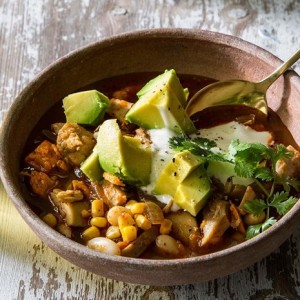 INGREDIENTS:
2 tablespoons extra-virgin olive oil
1 large onion, chopped
3 cloves garlic, minced
2 cups cubed sweet potato (1/2-inch)
1 medium green bell pepper, chopped
2 tablespoons chili powder
2 teaspoons ground cumin
1 teaspoon dried oregano
1 15-ounce can low-sodium cannellini beans, rinsed
2 cups low-sodium chicken broth or homemade chicken stock
1 cup frozen corn
2 cups cubed cooked chicken (1/2-inch; about 10 ounces)
3/4 teaspoon salt
1/4 teaspoon ground pepper
Sour cream, avocado and/or cilantro for garnish
DIRECTIONS:
Heat oil in a large pot over medium-high heat. Add onion, garlic, sweet potato and bell pepper; cook, stirring occasionally, until the vegetables are slightly softened, 5 to 6 minutes.
Stir in chili powder, cumin and oregano and cook, stirring, until fragrant, 1 minute. Add beans and broth (or stock) and bring to a boil. Reduce heat, partially cover and simmer gently for 15 minutes.
Increase heat to medium-high and stir in corn; cook 1 minute. Add chicken and cook until heated through, 1 to 2 minutes more. Remove from heat. Stir in salt and pepper. Serve topped with sour cream, avocado and/or cilantro, if desired.
WHY THIS DISH IS BALANCED BEAUTY APPROVED:
Chicken= Healthy protein. Protein is essential to build and maintain MUSCLE. The more muscle –> the higher your resting metabolic rate –> the faster your metabolism and ability to burn fat and  lose weight, even at rest.
Veggies= Fiber, Vitamins, Immune boosting, Oxygen to your blood- Throw in some additional spinach or kale for extra greens. The more veggies, the better!
Spice= All-natural Fat-burner/Metabolism boost
Sweet Potatoes= Healthy, slow digesting carb, great for muscle recovery, mood balancing Vitamin B and more!
Tortilla Chips= Optional Gluten-free add-on to satisfy that salty craving.
Check out Eating Well for more Fall recipes and follow me on Pinterest @1BalancedBeauty for other approved recipes, that taste great but won't derail your health goals… Comfort foods can be healthy too!
Happy Fall,
Coach Aly