On these cold winter days there is nothing I enjoy more than curling up with a cup of hot tea! Everything from the calming smell to the soothing warm touch on the back of my throat makes me feel relaxed, healthy and zen. Adding lemon or honey also provides that perfect touch of sweetness (a great way to control and satisfy a sweet tooth after a meal).
Tea has many health benefits and if incorporated into your daily diet can help boost your health and well-being. I am sure many of you know there are many types of teas, but did you know there is a specific medicinal purpose that each one provides?
Below is a list of my favorite teas and their helpful, healing properties:

Green Tea:
Green Tea is the least processed type of tea; therefore contains the most antioxidants! It has been used in traditional Chinese and Indian medicine for centuries to control bleeding, heal wounds, aid digestion, improve heart and mental health and regulate body temperature. Recent studies show positive effects on everything from weight loss to liver disorders and type 2 diabetes.
Echinacea:
Most effective for alleviating the symptoms of cold and flu! Echinacea has strong antiviral, antibacterial, anti-fungal properties that can boost the immune system. Stock this one in your cabinets and desks at work to avoid sickness throughout the winter months.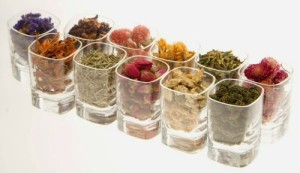 Chamomile:
Best known as a sedative, chamomile can help ease an upset stomach, reduce stress and anxiety, and help provide restful sleep (best to drink before bedtime). It can also hasten the healing of wounds and boost the immune system.
Peppermint:
Most helpful in aiding digestion or alleviating heartburn. Peppermint is excellent for anyone who experiences tummy troubles (particularly after a large meal). Due to its refreshing flavor and invigorating aroma, it can also help improve mental clarity and performance. Try drinking throughout the work day for greater productivity/alertness or while studying for an exam!
Red Raspberry Leaf:
This herb is a renowned, "female wonder tonic" because its combination of nutrients supporting pregnancy, fertility, and hormonal balance. It tones the uterus and can relieve symptoms of PMS. It can also soothe sunburn or rashes when used externally on the skin.
Dandelion Root:
With its hearty roasted flavor, dandelion root tea could serve as a caffeine-free alternative to black tea or coffee. It also boosts immunity, supports liver and gallbladder health, and purifies the bladder, kidneys, and blood.
*Beauty Tip: Whenever I need to get "photo shoot ready"or need a healthy detox before a big event, pageant or competition, I drink one cup of dandelion root tea before bedtime. It helps to reduce puffiness and will beautify for you for those early morning photos!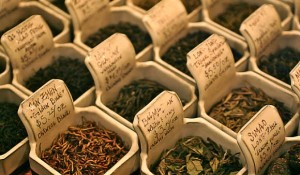 Ginger:
A powerful root used to treat a variety of diseases. Ginger not only boosts the immune system due to its high Vitamin C and mineral content, but it also improves circulation, reduces pain, motion sickness, and lowers inflammation. It is also the perfect remedy for a pregnant mommy-to-be, as it eases nausea.
St. John's Wort:
Famous for its anti-depressant activity, St John's Wort is excellent for balancing mood swings, enhancing sleep, relieving anxiety and other nervous disorders and promoting relaxation. It can be a powerful all-natural aid against PMS. Take one week prior to expectant onslaught of symptoms. Note, it is a very powerful herb so do not take with alcohol, certain medications and avoid completely if pregnant.
Ginseng (aka: Super Tea):
Widely used in Chinese medicine, a powerful "cure-all" that can improve digestion, boost libido, alleviate pain, prevent cancer growth, clear blocked sinuses, and healthfully support the body in nearly ALL of its vital functions….So, when you are out to dinner and the waitress comes around with that large box of tea and you don't know which one to choose- Go with the GINSENG!!!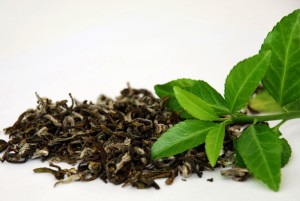 IMPORTANT NOTE:
Not all teas/herbs will affect or benefit individuals the same way. Check with your doctor and do your research before using frequently or to treat any condition or ailment.