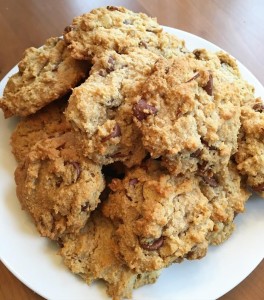 Want to indulge in a sweet treat, without the guilt or totally derailing your health goals for summer?… Try these BalancedBeauty Almond Flour Chocolate Chip Cookies!
* Gluten & Dairy Free*
🍫Made with love and All-Natural ingredients!
Ingredients:
Yields: 25 cookies
🔹3 Cups Almond Flour
🔸1 tsp Baking Soda
🔹1/2 tsp Sea Salt
🔸1/4 cup Coconut Oil
🔹1/4 cup Maple Syrup
🔸1 whole Egg
🔹2 Egg Whites
🔸1 tsp Vanilla Extract
🔹1 cup Dark Chocolate Chips*
🔸 1/2 cup toasted Sliced Almonds
*Dark chocolate is loaded with antioxidants and is a healthier choice, but feel free to use vanilla, milk or other types of chocolate for your ideal cookie preference!… You can also easily stir in some peanut butter or raisins for alternative cookie recipe!
Directions:
– Preheat oven to 375°F
– Line baking sheets with parchment paper
– Combine almond flour, baking soda and sea salt and set aside.
– Mix coconut oil and maple syrup in a mixer or by hand until creamy but not fully incorporated, about five minutes
– Add whole egg, egg whites and vanilla extract; mix for two minutes more.
– Slowly add dry ingredients to egg mixture and mix for one minute
– Add chocolate chips and toasted almonds and mix until well combined.
– Place large rounded tablespoons onto prepared baking sheets, 1 inch apart
– Flatten slightly, to 1 inch thickness
– Bake until set in golden, about 15 minutes
👙 #BikiniBody approved!