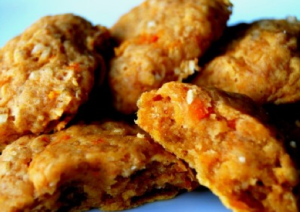 Who doesn't love cookies?!
When I was younger, I always LOVED getting off the school bus and indulging in a warm cookie with a tall glass of milk. The smell of cookies in the air and the taste is one of comfort and good feelings….
This is likely the reason later in life I always find myself craving this special treat, especially after a long or stressful day. To me, cookies are comfort, love and happiness…Unfortunately, my waist-line doesn't agree 🙂 After all, who can ever just have one cookie? Not me!!!
That is why I created the below Balanced Beauty "cookie" recipe, perfect for the Fall months and Back To School!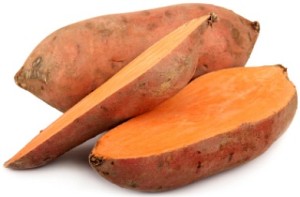 It may be a little foolery but I am all about taking a healthy food like a sweet potato and repurposing it into a cookie–Getting playful with your healthy foods is the best way to stay on track!
These cookies have NO: SUGAR, OIL, BUTTER, FAT or FLOUR. They are Gluten Free, Vegan and Paleo-friendly!
WHY SWEET POTATOES ARE BALANCED BEAUTY SUPERFOOD:
High in protein
Low in carbs
Low on the glycemic index
High in fiber
Moderate to high fat content (mostly mono and polyunsaturated fats)
High in potassium
Low in sodium
Net dietary alkaline load (to balance out dietary acid)
High in vitamins and minerals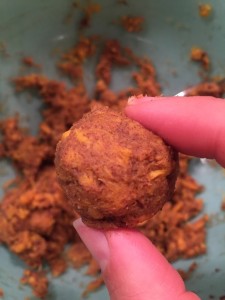 Sweet potatoes pass the "paleo-friendly test" because they are low on the glycemic index, meaning they will not spike your blood sugar levels…The effect happens slowly and steadily. Stable blood sugar levels are critical for weight loss, so you can satisfy that cookie craving without getting off track with your goals!
Ingredients:
– Sweet Potatoes (3-4 yields about 12 medium sized cookies OR 2 cups of cooked pureed sweet potato -organic/canned is OK)
– Almond Milk
– Almond Flour (1 cup)
– Cinnamon
– Nutmeg
– Honey (optional)
– Dark Chocolate Chips or Sugar Free mini morsels (optional)
– Vanilla Protein Powder (optional)
– Nuts (pecans are best- optional)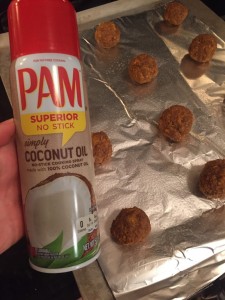 Directions:
– Preheat oven to 350 degrees
– If using whole sweet potatoes, heat until cooked through; Remove skin and mash in a bowl
– Add almond milk as you mash to create a dough-like texture
– Add almond flour to bind
– Add cinnamon and nutmeg to taste
– Add other optional ingredients, like chips to sweeten for a "dessert" cookie, protein for a workout supplement or leave plain for a simple, sweet taste!
– Roll into balls and place on cookie sheet
– Bake for approximately 20 minutes on 350 degrees
Result: A "cookie" like treat to take on the go or snack on any time, that will leave you satisfied without the guilt!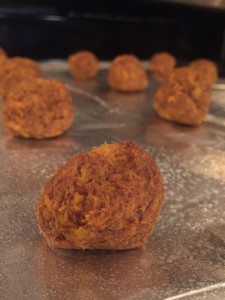 The Ultimate versatile COOKIE!
– Plain cookies: Great snack, energy boost
– With protein: Great pre or post workout. Energy and recovery!
– With Dark Chocolate: Treat to satisfy sweet craving OR used as a great alternative for kids!
Portable to take on the go for breakfast, snack on before/after the gym.
Like recipes like these? 
Like and Share on Facebook & Insta. to let me know…
The more interest, the more goodies I will post and share!
@1BalancedBeauty – Insta/Twitter
 Facebook.com/TheBalancedBeauty

As always, thanks for following!
xo Much Love,
Coach Aly