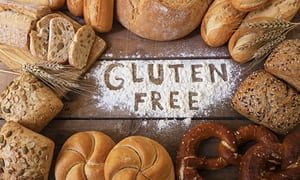 Cutting out gluten from your diet may seem like a difficult and limiting task.
Not every product out there is safe for the Gluten-Free consumer… Many use fillers and seasonings that could harm those with celiac disease, gluten intolerance, sensitivity or for those of you just trying to eat healthier and AVOID!
Below are a few Balanced Beauty tips to think about when shopping and supporting a Gluten-Free lifestyle!
---
Make the right swaps-
If you need to avoid gluten, try these substitutes: 
Brown Rice Flour

Tapioca Flour

Potato Flour

Unflavored Gelatin

Soy Milk

Buckwheat

Cottage Cheese

Flax

Cornmeal
---
Double check your labels!
Gluten is found in many foods that you wouldn't even suspect. If you're unsure if a product is truly gluten-free, read the ingredient list. If you see any of the following words on the babel, it's best to  avoid the product:
Wheat/Wheat Starch- commonly found in

:

breads

baked goods

soups

pasta

cereals

sauces

salad dressings

roux
Barley- commonly found in

:

malt (malted barley flour, malted milk and milkshakes, malt extract, malt syrup, malt flavoring, malt vinegar)
food coloring
soups
beer
Brewer's Yeast
Triticale- commonly found in:
Rye- commonly found in

:

rye bread, such as pumpernickel
rye beer
cereals
---
Cleanse kitchen items thoroughly:
Don't re-use utensils– Jams, butters, honey and other spreads can be contaminated if the utensil used on gluten containing bread is returned to the jar.
Pasta can leave a residue in a colander if not cleaned thoroughly.
---
Shop in Gluten-Free isles:
While a gluten-free diet might seem difficult, there are many products available today! New and classic brands alike carry various meats, cheeses, spreads, condiments, chips, pastas, pancake mixes, bagels, etc. to help add variety to your every day menu.
---
Below is a list of my TOP 10 favorite Gluten-Free brands/products:
You can find the below in most all all-natural/organic markets, Trader Joes, Whole Foods, or even in your local super-markets in gluten-free sections!
For those of you interested to learn more, I offer a Gluten-Free Coaching Package. This is a great option for those of you wanting to learn about products, restaurants in your area, ordering/dining-out and specifics around living gluten-free.
Lastly- ALL recipes on my Blog, pins on pinterest and posts to @1BalancedBeauty on Instagram and Twitter are Gluten-Free- If you ever need cooking inspo, check them out!
I never want you to have to sacrifice flavors or the foods you love… All my Balanced Beauty recipes are designed to be simple, healthy, G-free and DELISSSH. Enjoy!