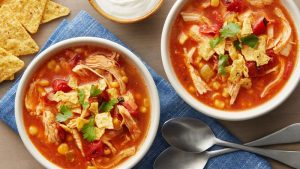 Want that #TacoTuesday flavor without the fat, calories and guilt?
Try my Balanced Beauty Taco Tuesday Soup Recipe… This recipe is filled with mouthwatering, flavorful spices but is low cal, metabolism boosting and totally delish!
The best part ( to keep it real here)— All you do is take the ingredients and dump them together in a pot… That's it. #ChefOfTheYear… You got this one!
---
INGREDIENTS:
1/2 Onion, finely chopped
1 tsp. chili powder
1 tsp. cumin
1 tsp. garlic powder
1 can (19 oz) red enchilada sauce
1 jar mild salsa
1 can (15 oz) black beans, drained and rinsed
1 can (15 oz) corn, drained
2 lb. boneless, skinless chicken breasts, cut into thirds
1 pack mushrooms
2 1/2 c. chicken broth
1/2 c. shredded mex cheese- part skim, plus more for serving
1/4 c. heavy cream
Chopped cilantro, for serving
Sliced lime, for serving
Crushed corn tortilla chips, for serving (optional)*
Sour cream- part skim, for serving (optional)*
Rice (optional)*
Avocado (optional)*
Note: This recipe uses a crock pot for slow cooking (which really gets all the flavor into the chicken and mushrooms) but you can also throw ingredients into a regular pot and get the same great flavor/final dish.
DIRECTIONS:
Combine onion, spices, enchilada sauce, mushrooms, tomatoes, beans, corn, chicken and broth in the bowl of your Crock-Pot. Stir together to combine all ingredients. Set on high and cook for 3 hours, or until chicken is tender.
Remove chicken from Crock-Pot and shred.
Serve into bowls and top with cheese, sour cream, cilantro, chips, avocado and a slice of lime if desired. All toppings are optional!
Another great way to stay fuller for longer, avoid the tortilla chips, or serve as a great post-workout recovery meal is to serve over rice*
 * Balanced Beauty Tip: For a vegetarian version- Use 2 packs of MUSHROOMS, instead of chicken. Also, use QUINOA instead of rice to add more protein!