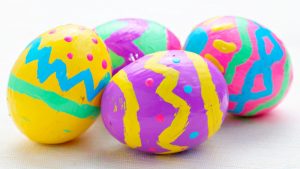 When I think of Spring, Easter and Passover one food instantly comes to mind: EGGS!
Eggs are the symbol of fertility, life, creation and are one of the most perfect Balanced Beauty foods on the planet! They are high in protein, low cal, low carb, and can be prepared in a variety of (simple) ways. Since they are easily digestible, are also great to eat any time of day.
You all know I love eggs because I shared the same sentiment this time last year 🙂 ….Luckily, I have a fresh, new recipe for you to try that's Gluten-Free/Low-Carb/Balanced Beauty tested and approved!
Ditch the breadcrumbs and starchy crusts, and try this Quiche made with a veggie, zucchini or sweet potato crust! Both work great and depending on the fillings, you can go either sweet or savory!
---

INGREDIENTS

:
CRUST

:
3 1/2 cups shredded zucchini (about 2 large) squeezed and drained OR 3 1/4 cups shredded sweet potato (about 1 large)
1 large egg, lightly beaten
2 tablespoons parmesan cheese
1/4 teaspoon sea salt
1/8 teaspoon ground pepper
FILLING

:
5 large eggs
2 scallions, chopped
3/4 cups part-skim cheese
1/2 cup mushrooms
5 slices of turkey bacon (optional)*
salt/pepper to taste
1 cup almond / coconut or cashew milk
1/4 teaspoon salt
1/8 teaspoon ground pepper

* Use other ingredients/fillings as desired: tomatoes, peppers, onions, broccoli, etc.

STEPS

:

To prepare crust: Preheat oven to 400°F. Coat a 9-inch deep-dish pie pan with cooking spray. Stir crust ingredients together in a medium bowl. Transfer the mixture to the prepared pan and press it evenly into the bottom and up the sides of the pan. Bake until the crust is set and beginning to brown around the edges, about 25 minutes.

To prepare filling and bake quiche: Combine filling ingredients and pour over the crust.Reduce oven temperature to 350°F. Bake the quiche until the filling is set in the center and beginning to brown slightly, 35 to 45 minutes. Let cool slightly before serving.

Serve warm or cold; delicious either way!
---
DID YOU KNOW?…