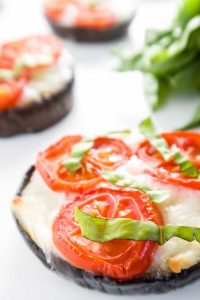 Pizza is one of my favorite foods..But when trying to eat clean, the carbs, cheese and oils from most options aren't exactly healthy.
Luckily, today there are some healthier options and many restaurants are now serving Gluten-Free crusts, but one of my favorite ways to indulge, while REALLY keeping it clean is by making EGGPLANT PIZZA!
This recipe is easy, gluten-free (can be dairy free if desired) and removes all the typical fat and calories from traditional pizza.
Eggplant is a veggie that is full of fiber, is low cal and low carb so it also adds additional health benefits to your overall diet.

INGREDIENTS

:
2 large eggplant, cut into rounds*
1 Jar Tomato Sauce
Olive oil
Part-Skim ricotta (optional)
Part-Skim cheese (optional non-dairy cheese)
Toppings: Grilled chicken/lean meat, sautéed spinach, mushrooms or other veggies- Sky is the limit- Get creative!
Extra: Parmesan cheese, red pepper flakes, oregano, basil
*Another option is to cut into long, rectangular slices- Your preference! I find rounds to be easier and more fun to eat as an "individual" mini-pizza.
DIRECTIONS:
Heat oven to 350 degrees
Place eggplant on tin-foiled baking sheet
Coat top lightly with olive oil
Bake until hot or until starting to turn light brown, approx 5-10 min
Flip over and repeat, approx 5-10 min
Add sauce, cheese and let bake until cheese starts to melt, approx 10 min
Add on toppings and continue to let bake until all is golden brown
Mangia & Enjoy!