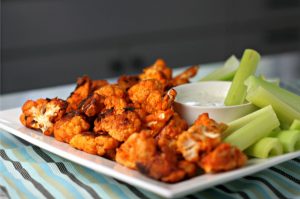 Looking to sneak some veggies into your game-day meal?
Buffalo Cauliflower Bites, are the perfect, healthy alternative to other chips and fatty dishes (like cheese and dips). Same great taste as those chicken wings but with less calories, fat. They are great to munch on while enjoying those commercials!..I mean, the game (…sorry, I'm a sad Giants fan over here- what can I say).
Makes 4 servings (roughly 1 cup each)
INGREDIENTS:
1 medium cauliflower, cut into bite-sized pieces
1/2 cup olive oil
1 teaspoon garlic powder
1/2 teaspoon salt
1/4 teaspoon black pepper
2/3 cup Buffalo hot sauce
INSTRUCTIONS:
Preheat oven to 450 degrees, spray a large cookie sheet with cooking spray and set aside.
In a large bowl whisk together olive oil, garlic powder, salt and pepper. Add cauliflower florets and toss to coat. Spread evenly onto cookie sheet and place in the oven. Bake for 15 minutes, flipping once. Remove from the oven.
Add on buffalo sauce and finish baking until crispy/golden brown!
Serve with celery, carrots, low-fat dressing, hummus greek yogurt or tahini*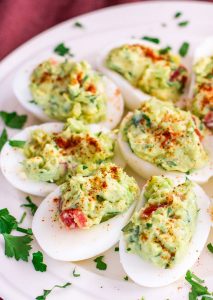 Check HERE for past SUPER BOWL, SUPER SNACKS!
Recipes include: Simple Salsa, Jerk Chicken, Steak Fries, and my #1 Pick: Guacamole Eggs!
With a table full of goodies and tempting treats, always try and add in some PROTEIN & VEGGIES to stay full for longer… 
Healthy foods can taste just as good and keep you and your guests totally satisfied!