I LOVE PIZZA! 
I could eat it every day, three times per day, every day of the week for the rest of my life and never get sick of it…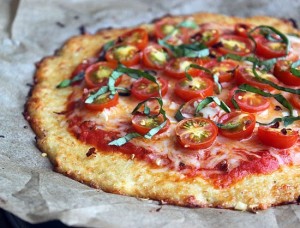 Unfortunately, pizza is not a gluten-free-friendly food and it isn't always the healthiest option…In fact, it can be one of the worst if made with white flour, saturated fats, oils, heavy meats and cheeses, topped off with a layer of grease! In your quest to lose weight or get lean this would typically be an item I would recommend staying away from….
Until, I discovered an AMAZING way to use cauliflower for the pizza crust and created healthy alternative pizza recipes of my own! By using cauliflower, you are removing the wheat and gluten, and are filling up on a healthier, low carb option. This veggie substititue will give you that delicious taste you love, while staying on track with your health goals!
Cauliflower
is a super food, predominately linked to cancer prevention (
particularly with respect to bladder, breast, colon, prostate, and ovarian cancers
). This cruciferous vegetable is loaded with antioxidants and nutrients known for detox and cardiovascular support and is an excellent source of Vitamin K, proving anti-inflammatory benefits. The fiber in cauliflower is also a great choice for digestive system support, keeping your system and cells balanced and healthy!
Try this delicious and nutritious recipe today! Takes approx. 30-45 minutes.

Ingredients:
1 small to medium sized head of cauliflower (yield 2 to 3 cups once processed)
1/4 teaspoon sea salt
1 teaspoon crushed dried basil
1 teaspoon crushed dried oregano
1/2 teaspoon chopped garlic
1 teaspoon crushed red pepper flakes (optional)
Shredded mozzarella cheese (fat free, part skim, or rice cheese if dairy free)
1/2 cup parmesan cheese
1 egg, beaten
Olive oil
Tomato sauce (if using a jar sauce, select one all-natural/organic. I like to use Rao's or Victoria).
Your choice of toppings (sautéed spinach, papers, mushrooms, chicken, lean meat, kale, etc.)
* Don't use too many heavy toppings, as this is a light crust
*Sautee kale, spinach, broccoli or other veggies with a touch of olive oil and salt- then add on top for extra flavor
Place a baking sheet or pizza stone in the oven/ Preheat oven to 450 degrees
On a cutting board, place a large piece of parchment paper and spray it with nonstick cooking oil.
Wash and throughly dry a medium head of cauliflower
Cut off the florets and pulse in a food processor for about 30 seconds, until you get powdery snow like cauliflower (see photo). You should end up with 2 to 3 cups cauliflower "snow."


Cauliflower "snow"

Place the cauliflower in a microwave safe bowl and cover- Microwave for 4 minutes
Put cooked cauliflower onto a clean tea/dish towel and allow to cool
Once cauliflower is cool enough to handle, wrap it up in dish towel and wring out all water (squeeze as much as possible to ensure you get a crunchy pizza instead of a crumbly mess- the drier the better).
Place cauliflower into a bowl and add parmesan cheese, mozzarella cheese, sea salt, crushed basil crushed oregano, garlic, egg and a dash of red pepper (optional). Use your hands to blend and mix all ingredients together.

Once mixed together, use your hands to form the dough into a crust on your oiled parchment paper. Pat it down thoroughly, you want it nice and tightly formed together. Don't make it too thick or thin.

Using a cutting board slide the parchment paper onto your hot pizza stone or baking sheet in the oven. Bake for 8 – 11 minutes, until it starts to turn golden brown. Remove from oven.
Now for the fun!!!…Add your sauce, cheese and toppings of choice!!! The more veggies you add, the more nutritional value you are adding to your pizza. Adding in a lean meat, chicken for protein is a great way to stay full, longer.

Slide parchment with topped pizza back in the hot oven and cook for another 5 to 7 minutes until the cheese is melted, bubbly, and golden brown.
I know you will want to dive right in but allow it to cool for just a few minutes!… Use a pizza cutter and a spatula to serve your delicious grain/wheat/gluten-free cauliflower crust pizza!!!
Mangia & Enjoy!