This Holiday season I was gifted with an, "Instant-Pot."
"If you live a fast-paced, healthy, eco-friendly lifestyle Instant Pot is designed for you."
According to reviews, this pot will cook food up to 70% faster, easier to use than other slow-cookers/machines, and uses stainless steel for healthier cooking (no chemical coating).
Naturally, I had to give this new Balanced-Beauty-Baby a try; And am happy to report my first experience and recipe was a total SUCCESS!
This makes a wonderful gift or registry item for Brides… I highly recommend this product for NEW meals in the NEW YEAR- An efficient way to kick-off cooking in 2019! (#NewObsession)
---
This machine is for someone who doesn't have time to waste but wants a flavorful, delicious, east-to-make meal. My Balanced Beauty instruction when using this machine is simply:
Plug in
Dump in your ingredients
Hit the button and pretend your Martha Stewart.
Purchased alongside recipe book, "Every Day Instant Pot" by Alexis Mersel– I selected a recipe I have only ever been able to order in a restaurant…(because I always thought there would be no chance I could actually pull off a rich, flavorful Indian meal).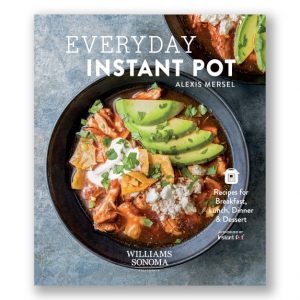 "Chicken Tikka Masala" is a flavorful dish made with Indian spices, chicken, cauliflower, tomatoes, and cream… Traditionally slow-cooked for hours to bring out all the flavors and spices, and served over rice.
Why is this an AWESOME Balanced Beauty Recipe?…It's a chicken dish that's PACKED with flavor but totally healthy. Loaded with healthy protein, veggies, and rice (a gluten-free carb) this meal will help you feel full and satisfied (…It's especially great post-workout). The BALANCE of ingredients and spices will also boost metabolism and ward off ailments, like muscle inflammation and the common cold during this winter season.
Here's the Balanced Beauty Approved RECIPE– Along with my recommendation to try out new methods of cooking like this, to save time and create healthy, delicious meals for your entire family!
---
INGREDIENTS:
2 tablespoons of ghee (found in health food store/trader joes)*

What is GHEE? Despite its reputation as an unhealthy kitchen ingredient (due to its fat content) it is actually healthy if eaten in the right proportion and can actually help you lose weight and burn belly fat compared to butter— Omega-6 fatty acids can also help increase lean body mass and reduce fat mass, which in turn aids weight loss.


1 yellow diced onion
4 cloves garlic, minced
1 inch fresh ginger, peeled and grated
1/2 jalapeño chile, seeded and minced
1 teaspoon cinnamon
1 teaspoon garam masala
1 teaspoon smoked paprika
1 teaspoon ground coriander
1 teaspoon ground turmeric
1 teaspoon sea salt
1 teaspoon black pepper
2 lb boneless, skinless chicken cut into 2 inch cubes (or tofu)
1 can (14.5 oz) diced tomatoes with juice
2 cups cauliflower florets
1/2 cup coconut milk or coconut creamer
Steamed white or brown rice for serving*
DIRECTIONS

: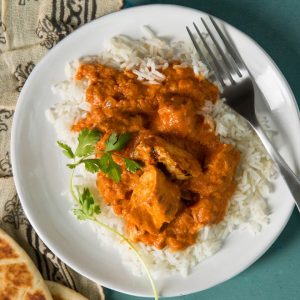 If using an Instant-Pot:
Select Saute on the Instant-Pot and melt the ghee. Add the onion and cook, stirring occasionally, until softened, about 3 minutes.
Add the garlic, ginger, jalapeño, cinnamon, garam masala, smoked paprika, coriander, turmeric, salt, pepper and cook– stirring until fragrant (should smell INCREDIBLE).
Add the chicken and cook, stirring occasionally until cooked through (about 5 minutes).
Stir in the tomatoes and cauliflower. Press cancel to reset the program.
Lock the lid and turn the valve to seal. Press the PRESSURE COOK button and set the time to 10 minutes to cook at high pressure.
Turn the valve to venting to quick-release the steam. Carefully remove the lid and stir in the cream, with any additional salt/pepper to season to taste.
Spoon rice over individual plates and top with chicken/veggies to serve!
If not using an instant-pot, you can still take the same wonderful ingredients and steps by cooking over a stove-top in a sauté pan…. Just cook ingredients longer to ensure thoroughly cooked-through. For more intense flavors, allow to sit longer or pre-marinade chicken in spices before cooking.
---
Like this recipe? Want more like these? Like, Comment, or reach out to let me know- I love hearing from you!
@1BalancedBeauty on Instagram/ Twitter
Email: Info@TheBalancedBeauty.com
Thank you and MAJOR shout-out to the creators of Instant Pot and to Alexis Mersel on the fabulous recipe… I look forward to testing out the next and sharing my favorites!