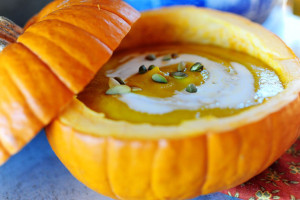 It is officially FALL, which means the crisp cool air will have us craving heavier foods as the seasons shift… My FAVORITE go-to option is a hot, hearty, comforting bowl of soup!
Soup is a great option when watching your waistline because it can fill you up without many calories. A study in the June 2005 issue of "Obesity Research" reports that participants who ate two servings of low-energy-dense soups per day experienced 50% more weight loss than those who took in the same amount of calories in a high-energy-dense snack. Eating the right types of soup can be beneficial to weight loss or maintaining your figure through the colder weather months.
The below is one of my favorite seasonal soup recipes. It is vegetarian, vegan, non-dairy, low sodium, sugar-free, gluten and paleo-friendly!
Pumpkin is also a TOP Balanced Beauty vegetable pick for weight loss because is low in calories and high in dietary fiber. A 1/2 cup of pumpkin is only 40 calories and contains 8 g of dietary fiber. High-fiber foods help to curb your appetite because they slow down overall digestion and remain in your stomach for longer than low-fiber foods. Dietary fiber also slows the rate at which sugar or glucose is absorbed by your body, which keeps your blood sugar levels stable. If you are on a diet, it is crucial to keep your blood sugar levels as stable as possible. Increasing your blood sugar levels triggers insulin release and unwanted fat storage.
Pumpkin Soup
This soup is nourishing, comforting and has the perfect seasonal taste. Top with your choice of roasted pumpkin seeds, Greek yogurt, parsley or crispy onions and enjoy!
Ingredients:
2 Tbs. Coconut Oil
3/4 Cup Onion, diced
1 Cup Organic Pumpkin Puree
1 Clove of Garlic, crushed
1 Tbs. Paprika
1/4 Cup Chives, chopped
4 Cups of Broth
Roasted Pumpkin Seeds, Yogurt and Parsley for Garnish
Salt & Pepper to taste
Directions: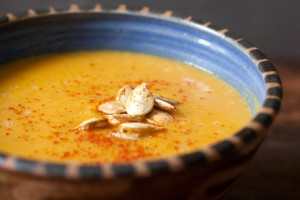 – Heat oil in a large pot over medium heat.
– Add the onions and sauté for about 5 minutes.
– Stir in garlic, paprika and remaining ingredients. Simmer, about 30 minutes.
– Allow mixture to cool slightly before pureeing in a food processor or high- speed blender.
– Serve immediately and garnish.
xo Wishing you a Happy Fall!!!
Coach AlyAs always, thanks for following!
@1BalancedBeauty Insta/Twitter
Facebook.com/TheBalancedBeauty
www.TheBalancedBeauty.com