This is not your Grandmother's Muffin!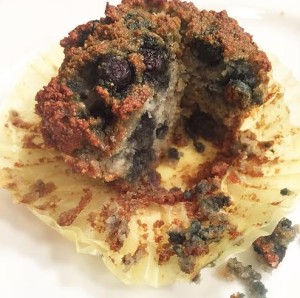 Your standard Blueberry Muffin is loaded with fat, sugar and carbs…This healthy Balanced Beauty approved reboot is grain-free, gluten-free, dairy-free and paleo-friendly!
Coconut Flour-  an excellent non-grain alternative to those who are gluten-free or on a paleo diet. I like the brand Nutiva because flour is ground from high quality dried coconut meat, and is high in fiber (32% of your daily value per serving). The mild coconut flavor works beautifully in these muffins, and will pair nicely with many fruits options, other than blueberries!

*You can substitute coconut flour for any wheat flour recipe. Just increase liquid in recipe up to 1/3, due to its high fiber content.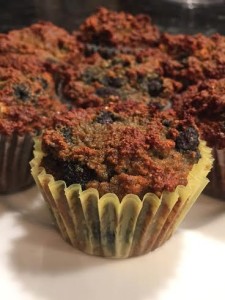 Chia– packed with omega-3s, protein, antioxidants, and fiber! Chia seeds are known as "runners food" because they expand in your stomach, help keep you full for longer and to avoid energy dips. I add chia seeds to muffins/baked goods, yogurt, oatmeal, and smoothies.
Blueberries– high in antioxidants and the ultimate beauty fruit! Blueberries are also very low on the glycemic index, making it an optimal choice for a low-sugar/no sugar diet. They add the perfect touch of all-natural sweetness for this muffin. I use frozen organic blueberries to ensure sweetest/freshest flavor.
Coconut Oil– can be used for COUNTLESS remedies, cures and health benefits…Some examples: helps burn fat in the body, helps you feel fuller for longer, decreases BMI/waist circumference, helps reduce risk of heart disease and type 2 diabetes.
Honey– aka Liquid Gold! All natural way to boost energy and memory. A great all-natural sugar substitute, which gives muffins light, sweet taste.
I call these "Coconut Blueberry Chia BEAUTY Muffins" because all ingredients are 100% Balanced Beauty approved, helping you enhance your beauty and glow from the inside out!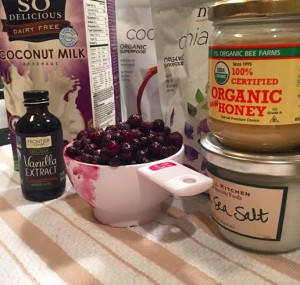 Ingredients:
Yields 12 Muffins
1 cup Organic Coconut Flour
1/2 tsp sea salt
1 tsp baking soda
1/2 cup + 2 tbsp raw honey
1 cup coconut milk
6 eggs
1/4 cup organic coconut oil, fully melted
4 tsp vanilla extract
1/4 cup organic chia seeds
1 cup organic blueberries
Recipe:
Preheat oven to 350 degrees Fahrenheit
Sift the coconut flour, salt and baking soda in a bowl
In a separate bowl or blender, whisk honey, coconut milk, eggs, coconut oil, and vanilla
Gently stir wet mixture into dry ingredients and mix in chia seeds
Fold in blueberries and pour batter into greased or lined muffin tins
Bake 25 minutes or until top become lightly golden brown or cooked through
Immediately remove from tins and cool on rack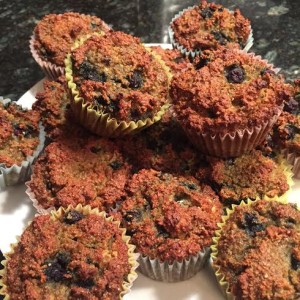 Great for breakfast, a snack, food on-the-go or to satisfy the sweet tooth, without the guilt!
Pair with Greek yogurt for a post workout recovery snack from heaven
Great healthy alternative for the kiddos (toss muffins loaded with white starches, processed ingredients, fat, and sugar… This version tastes just as good and is MUCH better for them)!
Make this muffin into a dessert cupcake by adding a vanilla frosting or cool-whip on top…or eat with a scoop of vanilla ice cream…It's delish!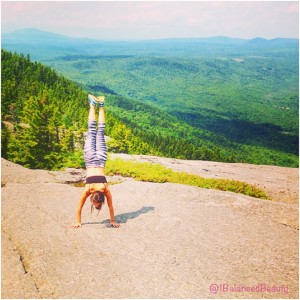 As always- Sending LOVE- Thanks for following!

@1BalancedBeauty on Instagram and Twitter for more healthy inspiration, recipes and fit tips!
OR Work with me!
Email
: Info@TheBalancedBeauty.com
+ @Aly_Mang for latest acting projects!