Old-fashioned tomato soup is the ultimate comfort food. I share this post on a Sunday because there is nothing better than snuggling up with a nice warm bowl this time of year… And soup is the perfect food to make on a weekend, to put in containers and eat throughout the week!
This Balanced Beauty version calls for San Marzano tomatoes, which are known for their sweet flavor, low acidity and relatively low seed count. You can buy canned San Marzano tomatoes in any supermarket or Italian grocery store (opt for organic, if possible)!
I also like to use mushrooms to add fiber, protein, antioxidants, vitamins, minerals and to add texture, rather than using croutons- A healthy, gluten-free option!
Ingredients:
1 Tablespoon olive oil
1 Tablespoon butter*
1 Medium yellow onion, diced
Sea Salt
2 Medium garlic cloves, minced
Mushrooms
1 (28 ounce) can whole peeled tomatoes in their juices, preferably San Marzano
1 1/2 cups low-sodium chicken broth (or water if making vegetarian)
1/3 cup almond milk (instead of heavy cream in typical recipes for dairy-free version)
Freshly ground black pepper, red pepper flakes & parmesan cheese, to taste
Fresh basil leaves, julienned
*Note: Butter, in moderation, can be OK as a part of your diet, particularly when going low-carb or eating gluten-free. It is all-natural and contains fat-soluble vitamins. It also contains CLA (Conjugated linoleic acid), an omega-6 fatty acid important to human health. It is a potent anti-oxidant, anti-carcinogen, and anti-catabolite, as well as a powerful immune system enhancer… Just use a small portion and only in particular recipes, like this one! If really trying to watch your weight , omit butter and just use extra-virgin olive oil.
Directions: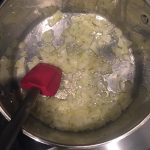 Place a medium saucepan over medium-low heat and add the oil and butter. When the butter melts, add the onion and a big pinch of salt. Cook, stirring occasionally, until the onion is completely soft, about 15 minutes. (If at any point the onion looks like it's beginning to brown, reduce the heat). Add the garlic and optional red pepper flakes and cook for 5 minutes more, stirring occasionally.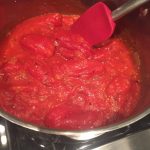 Increase the heat to medium and add the tomatoes and their juices to the pan. Roughly crush the tomatoes with the back of a wooden spoon and cook until they're hot and beginning to soften, about 10 minutes. Add the broth or water and basil leaves and bring to a medium simmer, until the tomatoes begin to fall apart, about 15 minutes.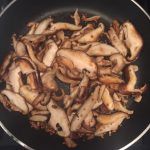 In a separate pan, saute mushrooms in olive oil and a pinch of salt. Cook until browned.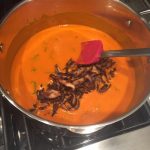 Remove the soup from the heat and cool slightly, about 10 minutes. Purée the soup directly in the saucepan using an immersion blender, or use a countertop blender, carefully puréeing the soup in a couple of batches until smooth. Once smoothed, add in sautéed mushrooms!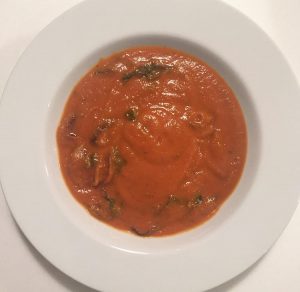 Return the soup to the burner over low heat and stir in the almond milk. Add black pepper, parmesan and optional pepper flakes, then taste and adjust the seasoning with additional salt or pepper as needed. Serve in warmed bowls, as is or topped with the garnishes of your choice.
For more recipes, like this one, browse categories on the right-hand menu and follow @1BalancedBeauty on Insta, Twitter, Pinterest & Facebook.comTheBalancedBeauty.
As always- Sending Love,
Coach Aly