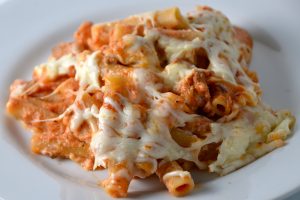 One of my FAVORITE foods on the planet is BAKED-ZITI… What's better than a big bowl of pasta, with ooy-gooey melted cheese?!
Just one little problem– A traditional Baked-Ziti recipe is one of the worst things for you. Carbs topped with fat and oil. This is a food you definitely want to stay away from, if trying to get into bikini body shape and feel light and toned for the summer….
Except, if you make my Balanced Beauty-approved version!
My recipe tastes crazy-delicious and hits that spot and craving for traditional Baked-Ziti, without the guilt.
Most of you following have started replacing your pasta with gluten-free versions or brown rice and quinoa…That's GREAT!…But since summer is just 1 week away, let us take it one step further and go for an even better solution: subbing with RICED CAULIFLOWER.
Why?
Check out these amazing benefits: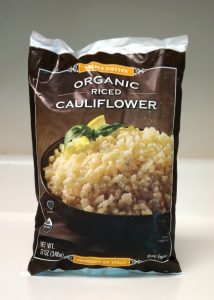 #1, it's a veggie… So while it does contain carbs, it is in a completely separate category.
In terms of it's second best quality: It is extremely low in calories and has virtually zero grams of fat.
Cauliflower has just 25 calories per cup vs. 218 for a cup of cooked brown rice… And, if you're watching carbs, cauliflower has 5g per cup vs. 46g for a cup of brown rice!
RECAP: Low in calories, zero grams of fat, very low levels of carbs and sugar, and YET is high in volume and filling fiber!!!
This makes it an excellent choice for those looking to lose weight, since you can consume large amounts of cauliflower and fill up, without over-consuming calories, fat, sugar, or carbs.
Cauliflower also helps to "eliminate waste" and flush water weight, which helps you to feel immediately better and less bloated.
Lastly, cauliflower and cauliflower rice is also inexpensive, easy and fast to make. As shown on my instagram, Trader Joes sells individual packages of riced cauliflower for under $3.00! You can make an entire meal for your family, with leftovers to spare for under $10.
---
Cheese in this recipe can go both ways…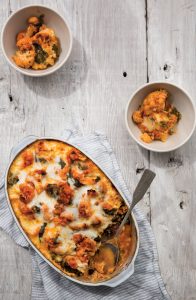 For some, dairy is something that should be eliminated from the diet to further lose weight, help with inflammation or clear up skin. For others, dairy is not an issue (especially in moderation) and can actually serve as healthy Vitamin D and protein. If using cheese, opt for Part Skim, 1% or 2% to keep fat content low.
For those who have dairy sensitivity or wish to avoid- opt for non-dairy version, such as rice cheese. You can find this product in any whole foods or all-natural food store.
Cheese can be part of a balanced diet and certain cheeses can be a great source of vegetarian protein, if avoiding animal meat products. I personally love cheese and eat it often as a part of my balanced diet… To off-set any cheese-guilt, just add extra veggies!
---
BALANCED BEAUTY BAKED ZITI BOWL
5 ingredients – Under $10 – Takes less than 10 minutes to make
Ingredients

:
1 Bag Riced Cauliflower
Spinach
Olive Oil
1 Jar Tomato Sauce (I really like/recommend Trader Joes Marinara– At just $2.29/jar, it's loaded with ORGANIC chunky veggies, that are hearty and delicious. The flavor is great).
Part Skim Cheese or Rice Cheese*
Optional: For additional protein, add chicken/meat as desired. For additional nutritional value or flavor, add extra/different veggies! Think of this bowl as a salad or toppings for a pizza– The more, the merrier!
Directions:
Add 1 Tbsp of olive oil to pan to heat, add spinach. Cook until wilted.

Microwave bag of cauliflower, as instructed, on high for 3-4 minutes in large bowl.

Add sautéed spinach (and any additional veggies or cooked meat) to cooked cauliflower and mix in sauce and cheese

Microwave again for 2-3 minutes or until cheese fully melted
---
MY #1 Balanced Beauty Product-Pick of The Season!
There are TONS of recipes you can make with this one ingredient!
Cauliflower can be the base of a stir-fry, cold summer salad, or even as the base for your pizza crust… Since cauliflower takes on the flavor of whatever it is cooked with, you can transform it into many different types of cuisines.
Try this recipe and others to keep it low-cal, low-fat, gluten-free and guilt-free all summer long – And keep following @1BalancedBeauty for additional healthy inspo!
Happy Almost SUMMER,
Coach Aly
& Work With Me- Check Out Package Options, Customized to YOU: