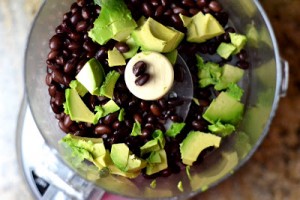 Avocado and Black Beans may sound like the perfect ingredients for a Mexican dish but trust me when I say they are really a star combination for the most amazing Gluten-Free, Non-Dairy, and Vegetarian friendly, insanely delicious FUDGY BROWNIES!!!!
*Made with black beans in place of flour and avocado instead of butter or oil*
They are loaded with fiber, healthy fats and are a dessert that offers some health benefits, compared to regular brownies. Great for kids or for serving at parties; Taste so good- no one will suspect they are eating something healthy!
HEALTH FACTS:
Black Beans– Support digestive health, Stabilize blood sugar, Antioxidant, Anti-Inflammatory nutrients
 Avocado– Heart healthy, Boost Immunity, Mood, Natural detoxifier, Reduces inflammation in the body
INGREDIENTS:
1 can black beans, rinsed and drained
1/2 ripe avocado
3 eggs
1/4 cup agave syrup
6 tbsp cocoa powder
pinch of salt
1 teaspoon vanilla extract
1/2 teaspoon baking powder
1/4 teaspoon baking soda
1/2 cup coconut sugar
Add chocolate or carob chips for extra sweetness, if desired or to sprinkle on top
Almond milk
*Serve with Greek Yogurt or Coconut Milk Vanilla Ice Cream to top
DIRECTIONS:
Preheat oven to 350 degrees F.
Line an 8×8″ pan with parchment paper.
Combine black beans, eggs, agave syrup, and avocado in food processor. Blend for a few minutes, until completely smooth. Add remaining ingredients and continue blending until fully combined, stopping once or twice to scrape down the sides of the bowl. Add almond milk as you stir to help create batter-like texture. Tip: Keep on thicker side so brownies are extra fudgey!
Spread into parchment-lined baking dish (add chocolate chips on top if desired)
Bake for 30-33 minutes, or until a toothpick inserted in the brownies comes out clean.
These are best if you let them sit overnight before slicing and enjoying!
* Gluten-Free, Non-Dairy, Vegan & Vegetarian Friendly
 Everything in the right balance!
Quality, healthy ingredients from the earth are great to support your healthy, delicious lifestyle!