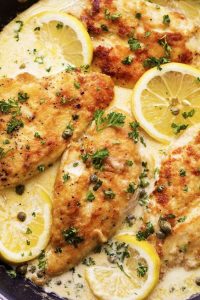 For those of you who follow my insta-stories (@1BalancedBeauty), you might see me experimenting from time to time with new ingredients and recipes… This latest creation is a MUST SHARE!!!
Many of you eating healthy are sick of boring grilled chicken..Am I right? This recipe takes your old school chicken to the next level, while also offering some additional health benefits with some new fab ingredients you MUST know about and cook with!
The result is a TOTAL RESTAURANT-QUALITY DISH…Only this Balanced Beauty Recipe is Gluten-Free, Paleo, and Low-Carb. You get all the flavor with none of the guilt!
OK- Let's get to it– The BEST chicken dish you will EVER make:
PS: New (Gfree/Paleo-Friendly) Ingredient Crash Course:
Ghee: clarified butter that originated from the Indian subcontinent; and is commonly used in South Asian and Middle Eastern cuisines, traditional medicine, and religious rituals.  Ghee has a unique nutrition profile without any lactose or casein, but rich in short-chain and medium-chain fatty acids and butyrate. For people who are lactose or casein-sensitive, they can use ghee because the process has removed these allergens-

AKA

– It is better-for-you-butter!
Avocado Oil: is a cholesterol-lowering food because it's high in monounsaturated oleic acid content, making it a beneficial choice when it comes to the heart.

AKA

– Great alternative to other oils, like olive or coconut.

Almond Flour:

 For those of us watching our glycemic index (trying to keep blood sugar levels down), almond flour is high in protein, low in carbohydrates, and low in sugars. Unlike other alternatives to wheat flour, almond flour is moist and delicious- It is also Gluten-Free and Paleo-Friendly, making it a great substitute for baking/ any flour products.

AKA

– Swap the white stuff for this.
*This recipe is super simple to make- The hardest part is just shopping for the ingredients…But, I promise it will be worth it!! It's a great time of year to try NEW things while cooking those holiday meals… Think of this dish as a spin on an old vintage classic…. Enter 2018 with the latest / healthiest additions to your diet.
Remember- What you put on the inside is what's shown on the outside, so get on-trend- spice up those kitchens and winter bods!!!
---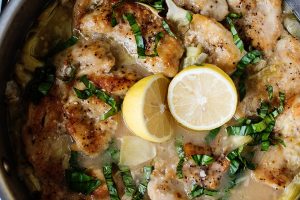 Ingredients

:
1 Package of Chicken
1 Cup Almond Flour
1 Egg
1 Teaspoon Salt
1 Teaspoon Pepper
1 Teaspoon Italian Seasoning
1 Tablespoon Ghee
Juice of 2 Lemons
1/2 cup Organic Chicken Broth
1/2 cup Sherry Wine
1 cup Chopped Scallions
1/4 cup Avocado Oil
1/2 cup capers
Optional: Parsley to garnish
Steps

:
In a large skillet on high heat, add Avocado oil and Scallions
In a large bowl- create "flour mixture" by mixing Almond Flour, Salt, Pepper, and Italian Seasoning together.
Whisk 2 Eggs in medium sized bowl, dip chicken, then place in flour mixture to coat and lay in the oiled skillet (repeat for all chicken)
Let the chicken fry in the avocado/scallions until fully cooked (about 2 minutes on each side).
Once cooked through, on medium heat, add Ghee to the skillet
Once Ghee is melter, add 1 juice of a lemon, chicken broth, and sherry wine. (Note: I like to add sliced lemon wedges into the skillet to allow for extra lemony flavor).
The mixture should be sizzling and almost boiling- Keep flipping chicken in the sauce. Add in the capers as you continue to flip.
Add the juice of your other lemon on-top right as you take pan off the heat.
Serve over sautéed spinach or gluten-free pasta and enjoy!
NOTE: You can add other veggies to this recipe- For example, Mushrooms are a fantastic addition for heartiness and protein-  & Peas or tomatoes add a sweet touch. In addition to capers, olives can also be added for that all-natural saltiness.